Note: This is for educational purposes only, because people experienced licensing problems on Vista before.
Activating Windows 7 can cause a lot of trouble. First of all, you should create a restore point before you do anything, then follow the instructions below
Important Sidenotes:
You can't turn on system protection for your HDD in safe mode!!!
Slmgr.vbs cannot be started in safemode
Files that should be in place if you want to activate Windows 7:
Default: C:/Windows/System32/
slwga.dll
slmgr.vbs
slui .exe (rename .bak to slui .exe)
slui .exe.mui (in subfolder "en-US")
Is your Windows 7 copy licensed?
Enter "winver" into search field and this should show up: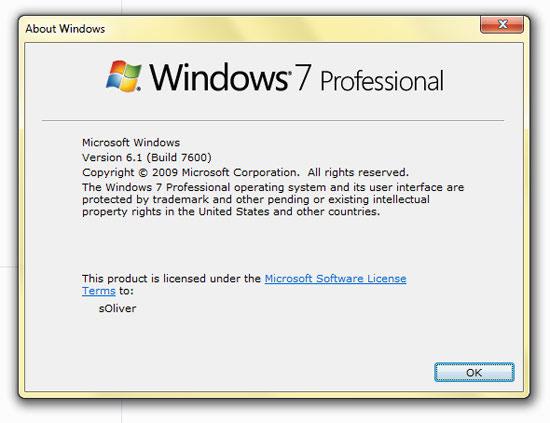 What is your current Windows 7 key?
Maybe you want to know your current key or you want to make sure that you applied the correct key then you will need a 3rd party tool. An excellent tool to display your Windows 7 key is "The Magic Jelly Bean Keyfinder"
Rearm Windows 7 to extend your evaluation by 30 days (totally legal)
If you want some more time to test Windows 7, then you can rearm Windows 7 a couple times. Open "cmd.exe" (enter cmd into search field) and use these commands to rearm Windows 7. Make sure to run cmd as admin (right-click "run as admin")!
slmgr.vbs /rilc (reinstall license)
slmgr.vbs /rearm (extend evaluation by 30 days)
Avoid Windows 7 Hacks:
Some hacks cause a lot of problems. You should not try to remove "watermarks" or "send feedback", it won't be worth it. Trust me. It will mess up your whole licensing service and configuration.
Windows 7 Licensing Manager – slmgr.vbs
You should be familiar with the Windows Licensing Manager if you have problems activating Windows 7.
Here are the runtime options for "slmgr.vbs":
-ipk [KEY] installs product key (enterprise too) or swaps current key
-upk – uninstalls product key
-ato – activate Windows
-dli [Activation ID | All] – license information
-dlv [Activation ID | All] – display license information in detail
-xpr – displays the expiration date for current license state
-dti – display installation ID necessary to activate online
-atp – activates Vista with the provided Confirmation ID – (without inverted commas)
-cpky – will enable you to remove information related to product key from the registry
-ilc – installs a license – (without inverted commas)
-rilc – re-install system license files
-rearm – reset the licensing status of your Windows Vista
-sprt port Set KMS host listening port (where port is the port ID).
-sdns Enable dynamic DNS publishing (default).
-cdns Disable dynamic DNS publishing.
-cpri Set KMS processor priority to low.
-spri Set KMS processor priority to normal (default).
-xpr Display the date when the activation will expire.
How to Repair System Files
Do you get the message: slmgr.vbs – "The service has not been started" or something similar? You can try to repair your system files then:
Open cmd.exe again and enter "sfc /scannow".
How to start the software licensing process:
Open cmd.exe and enter "net start sppsvc"
How to run Windows 7 in "safe-mode"?
Some processes related to the Licensing service can be started in safe-mode only. Press F8 during boot-up. The first time you do this your boot manager and devices could show up, select your drive and immediately press F8 again. Then you will be able to select "safe mode", "safe mode + networking, "etc".