All networked computers are exposed to various types of computer attacks, which can cause financial loss, work disruption, identity theft, and other damages.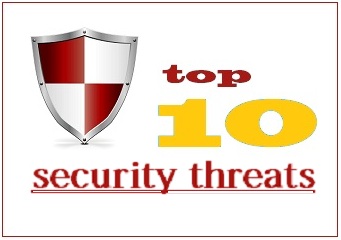 While there are many excellent security programs, 90% of the computer security depends on the users conduct. Read on to learn more about the most common computer threats and how you can protect yourself by following a few simple rules.
Even with the latest antivirus software installed, you need to incorporate good security practices into your everyday routine. When your computer is open to various attacks, hackers can steal important financial and personal information, sell your email to spammers, damage files, use your computer to attack websites or distribute viruses, record every keystroke on your keyboard, and steal your passwords.
The 10 most common computer security threats
Viruses The computer viruses are malicious software programs, which are distributed via the Internet or removable media such as CDs, DVDs, flash derives, and external hard drives. They can delete files and programs, cause system crashes, format hard drives, and perform other malicious activities.
Trojans The Trojans (Trojan Horses) are legitimate-appearing programs, which often run backdoor processes, corrupt or erase files, and install viruses.
Spyware Spyware is a piece of software, which is installed on the users' computers without their consent and gathers various information about the user's activities, but it can also redirect browsers to certain websites or change your computer settings.
Keyloggers The keyloggers are often dirstributed through viruses or Trojans and record every keystroke on your keyboard, making it possible to obtain important information such as credit card details, website passwords, or PIN numbers. Once the information is collected, it can be sent to a remote computer and used by hackers.
Phishing The activity of masquerading as a trustworthy website or program is called phishing (pronounced fishing) and it is used to obtain credit card information, usernames, and passowrds.
Ransomware The ransomware is a relatively new threat and it comes in the form of malicious software, which locks part of your computer system and restricts your access to files or certain services. It then demands a payment in exchange for removing the restrictions; often the ransomware pops up a message, which supposedly comes from legitimate organizations such as FBI or the Department of Justice.
Worms The difference between a worm and a virus is that the worm does not need a "host" (a program to attach to) and is perfectly capable of existing and self-replicating without any user intervention. The worms can open backdoors, allowing hackers to gain access and control your computer remotely, and then use it to launch Distributed Denial of Service (DDOS) attacks or send spam messages.
Spam The unsolicited email messages along with the spam via Instant Messengers, known as SPIM, are lower level threats, yet if handled incorrectly they can also cause substantial damages. Often the spam messages are far more than just unsolicited advertising and can carry attachments that install malware on the recipient's computer.
Adware Adware is software, which displays advertisement on a separate screen on in the user interface of another software. Adware is often bundled with another program in order to reduce its price or offer it to the user for free, but in some cases, the adware can also be used as spyware and collect and transmit information without the user's knowledge and consent.
Rogue security software – this is software, which "finds" computer threats and demands money from the computer user in order to neutralize them. Such software often displays animated system scan or system crash, pops up various alerts, and can prevent well-known anti-malware and antivirus programs from running.
Conclusion
Knowing just a little bit more about the most common computer threats is the first step towards better computer security. In the next part of the article, I will list some good common practices that will help you stay safe.