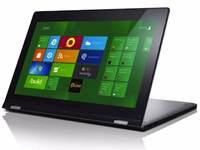 Analysts at Gartner have suggested that the upcoming Windows 8 Ultrabooks might boost the sagging PC markets, in 2013.
2013: Windows 8 Ultrabooks Resuscitate PC Market
Windows 8 is coming later this year or so the rumors tell us. Gartner in the meantime has been looking at the sorry state of PC sales. According to their report on the Ultrabooks that will run Windows 8 once the OS is launched might give the PC industry shot in the arm. A shot that is badly needs.
In the middle of increased smartphone and tablet demands, PC sales have been eroding away steadily. It is not bad enough to spell doom for PC makers but it is till enough for companies like HP (world's largest PC maker) to feel the hurt. According to the predictions made by Gartner, Ultrabooks won't have a positive effect on the market till 2013. But that is primarily because it will be a new year once more by the time Windows 8 devices have really started flooding the markets. With Windows 8 coming sometime before Christmas (hopefully), there's only so much that manufacturers can push out within one quarter.
So everybody will be busy putting their best foot forward during the October-December 2012 period and 2013 will see the actual critical mass of devices that cover the whole range of buying choices.
According to Gartner analyst Ranjit Atwal, the PC sales will remain weak through out 2012 because of increase competition from media slate devices. Other major reasons include the current trend of consumers opting for more cloud-based services and storage to make their devices that much lighter.
Windows 8 will finally be able to bridge that gap and provide the personal cloud to users who want it so very badly. Content creation is now superseded by content consumption because the overwhelming majority of buyers are looking for an easy and super-portable device to read, write and check emails, watch movies and surf the net.
Ultrabooks, with their super thin design are quite attractive in these regards and a lot of Windows 8 models will include touch in some way or the other. Together, that just might be enough incentive for the buyers to start buying PCs again.