If you want to disable Application switching in Windows 8, read the tutorial below.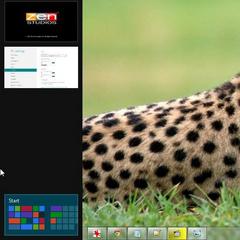 Windows 8 comes with a new look, enormous new features, different in many ways from its predecessors. You could switch between running applications before Windows 8 by pressing Windows + Tab. Windows + Tab also exists in Windows 8 Consumer Preview. It also has another way to switch between applications and must say, it is easier than Windows + Tab. This is a major difference of the Consumer preview version with the Developers Preview version of Windows 8. Here you can switch between applications just by moving the cursor to the left of your screen and then selecting the application to which you want to switch and you are done. If you want to disable this feature, then follow the instructions given below.
1. Step Press Windows + I to open the Charm bar on the right side of the screen. Click on More PC Settings.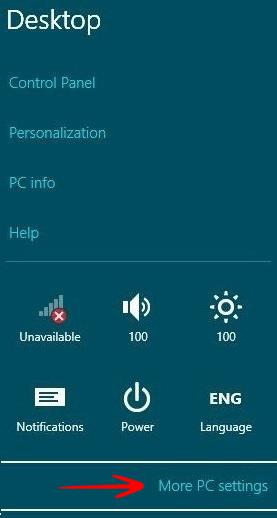 2. Step Now switch to the General tab. There you will see App Switching written below Time.
By default it is ON.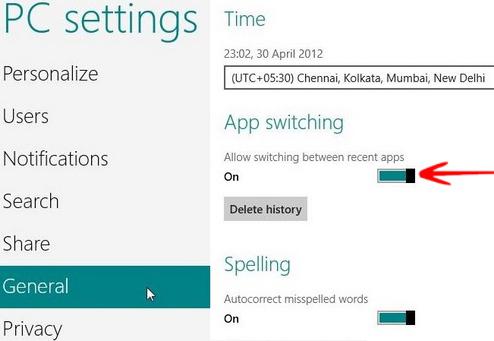 3. Step Make it OFF to disable Application Switching .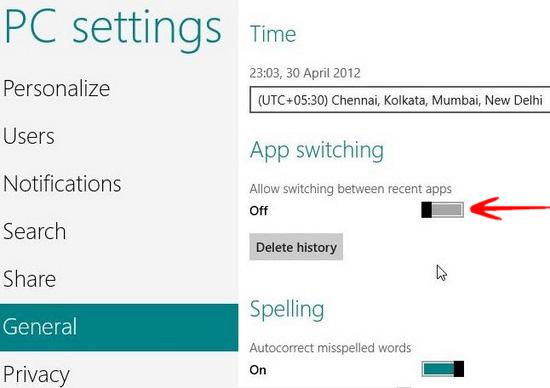 From now on, you will not see the black bar in the left side of the screen showing the list of running application.