If you encounter the dreaded missing operating system or bootmgr is missing errors you might have to create a recovery disk for Windows 7, here's a handy tool that will allow you to create a multi-boot disk with all sorts of anti-virus tools and LIVE CD's.
Tip: Before you actually go through the trouble of creating a recovery disk / emergency disk, I would recommend that you try the various fixes that might help to get your system back on track. For example, I recommend to check your MBR for viruses!
Also read the articles mentioned in the intro text (missing operating system and bootmgr is missing)
Create The Ultimate Recovery Rescue Boot Disk for Windows 7
Ok, I get it .. you are in some serious trouble and can't fix your MBR or repair the computer? Let's create a backup of your data and scan for even more viruses. Let's use this special tool to get the job done.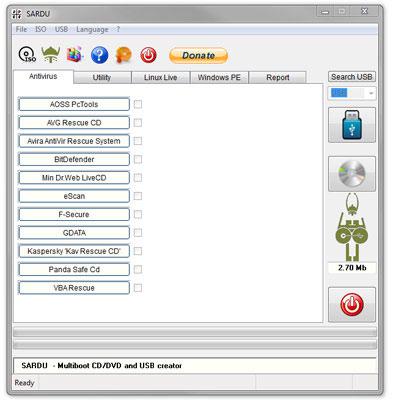 SARDU is the name of the tool. It stands for Shardana Antivirus Rescue Disk Utility. What I like so much about this tool is that it can create a multi-boot CD, DVD or USB stick. How awesome is that? Even better, it comes with some of the best tools to get the job done: Windows PE and Linux LIVE, as well as many anti-virus tools. For a free tool that is pretty impressive, don't you think?
So, let's say your system is not booting and you want to recover some of your most important files before you format your hard drive, then you can use SARDU's rescue disk utility to boot, perform antivirus scans and.
Antivirus tools that are included:
AOSS PCTools
AVG Rescue CD
Avira AntiVir Rescue System
BitDefender
Min Dr.Web LiveCD
eScan
F-Secure
GDATA
Kaspersky 'Kav Rescue CD'
Panda Safe Cd
VBA Rescue
Rescue tools that are included:
Floppy win98SE
Clonezilla
Gparted
NT password
Ophcrack
Parted Magic
Partition Wizard
Redo Backup Live CD
System Rescue CD
Trinity Rescue Kit
Ultimate Boot Cd
Opcrack is a handy tool that allows you to crack your Windows password if you have forgotten it and you can't seem to reset the admin password.
Linux Live:
Austrumi
BackTrack
Damn Small Linux
Fedora
Inquisitor Live (Debian based)
Linux Multimedia Player "Limp"
NimbleX
Phoronix Test Suite
Puppy Linux
Slax
xPUD
Ubunut
Kubuntu
Windows PE:
LiveXP
WindowsPE
UBCD4WIN
VistaPE
Win7PE
Win XP Recovery Disk
Win Vista Recovery Disk
Win Vista64 Recovery Disk
Windows 7 Recovery Disk
Windows 7 x64 Recovery Disk
As you can see, there are many tools that you can put on a CD, DVD or USB stick with just a few clicks. Very handy. For now, this is going to be the tool that I will recommend to everyone who wants to boot a broken system, check an infected system or simply rescue some personal data from a broken system.