Lost or forgot your admin password and now you want to reset your admin password in Windows 7? To reset the admin password, you will either need another administrator account or a password cracker to hack your password.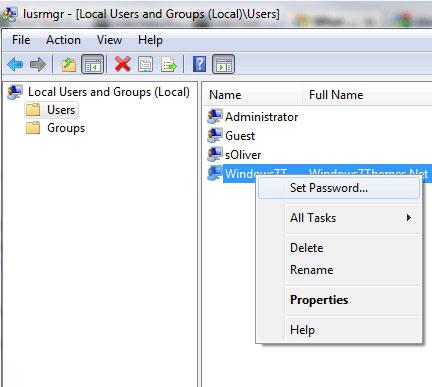 Reset Admin Password via 2nd Admin Account
If you have another admin account, you can reset your password quite easily. If you have another account (which is not an admin account) you can also try to
activate the hidden admin account
to get another admin account that you can use to reset your password in Windows 7.
So, you are now logged into an account with admin privileges?
Caution: If you follow the instructions, you will lose all encrypted files and possibly ALL e-Mails, so only do this if you have a backup.
1. Step Click on "Start" and enter lusrmgr.msc into the search field: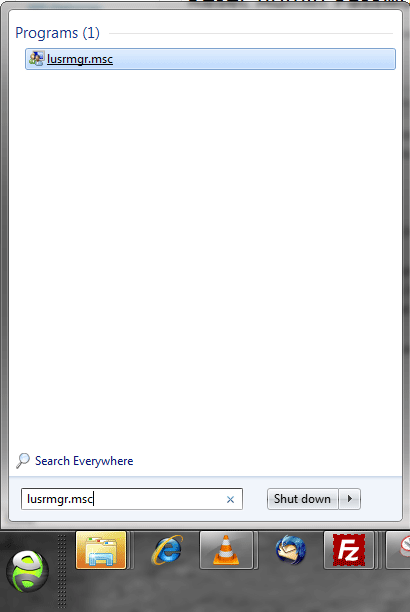 2. Step Open "Local Users and Groups" and go to "Users". Right-click on your account and select "Set Password":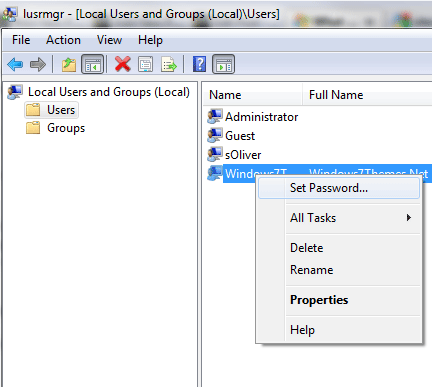 Reset Admin Account via Password Reset Disk
If you have a password reset disk (well, you probably don't or you wouldn't be here, so continue to method 3 below) you can also reset your admin password via that disk.
Crack Admin Password
Another possibility, if you don't want to lose any e-Mails or encrypted files is to crack your password. It's completely legal to do that on your own PC, so let's see which is the best Windows 7 password cracker.
ophCrack is a great tool to crack your XP, Vista and Windows 7 passwords.
The ophCrack Live CD allows you to boot from the CD and automatically crack your passwords. Important: They do not have an official live CD labeled "Windows 7", but you can use the Vista Live CD and it will work too:
Download ophCrack Windows 7 Live CD
So, download the Vista Live CD, burn it and then boot from the CD. ophCrack will load and will start cracking your passwords. It's that easy.