If you want to make Chrome faster, you should consider cleaning your profile regularly.
IMPORTANT: By following this tutorial you are temporarily removing all of your bookmarks, extensions and saved passwords – make sure to keep that in mind
1. Step Open the Windows Explorer using the Windows key + E and go to C:\Users\(username)\AppData\Local\Google\Chrome – keep in mind that you might have to unhide folders first
2. Step Rename the folder "User Data" to "User Data2". As you can see below I already have multiple "backup" folders: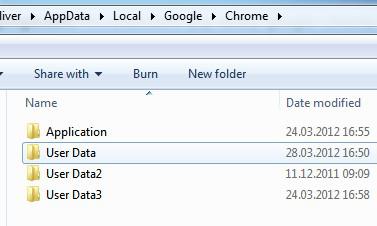 3. Step When you start Google Chrome now, all saved passwords, all bookmarks, all extensions will be gone.
4. Step Google Chrome is so much faster with all of that stuff and you can keep backups of your old profiles
5. Step Now go and make sure you download the Flashblock extension so you can avoid all those annoying Flash ads that slow down your browser. This can make Chrome a lot faster and work more smoothly on Windows 7 – often Flash is even crashing Chrome and causing a lot of problems in general (due to wrong implementation on websites or bad coding, I don't know)