If you are active on more than just one site you probably know the problem: How the heck should I remember all those passwords? A password manager is needed badly. Here's one of the best free password manager for Windows 7.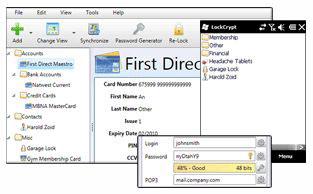 LockCrypt Windows 7 Password Manager
Lime49 developed a great software for storing and managing passwords securely. Translated into 17 languages, one of them being Klingon, LockCrypt is a great password manager for Windows 7. It's using either an encrypted MySQL database or an encrypted plain text file to store your passwords.
Secure Password Manager:
A 256-bit encryption guarantees that your passwords and accounts are protected from 3rd-parties.
Built-in Password Generator:
A built-in password generator can create secure passwords for you and help you to estimate how secure a password is.
Organize yourself and your passwords:
All of your accounts and passwords can be organized in folders, making LockCrypt a very flexible and elegant solution for managing passwords: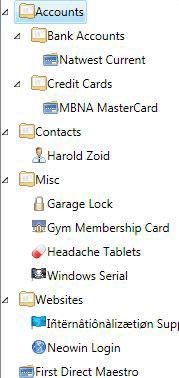 All the passwords can be organized in folders and sub-folders.
Synchronize passwords with your mobile devices.
Although it did not work during a test run on a 64-bit Windows 7, you can synchronize your passwords with a mobile device.
Modern, intuitive GUI:
The GUI of lockCrypt is easy to use and you will get used to it quickly so that you can start storing and managing passwords immediately. Some dummy files allow you to learn more about the password manager and how it works.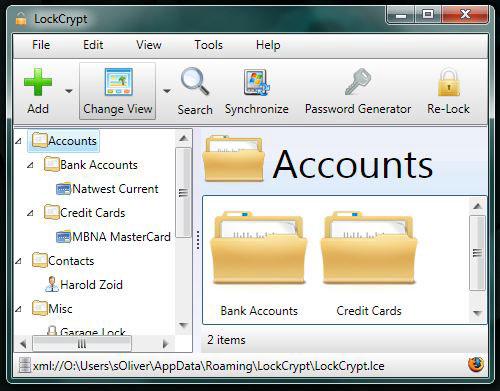 Overall, this is the best free password manager for Windows 7 that will greatly increase your productivity and can even be used in combination with SQL databases. The only disadvantage is the AutoType feature that requires you to record an action for each password separately! RoboForm is doing a better job at it, but if you only want to store and manage passwords LockCrypt is the best free alternative.
AutoType allows you to record actions and copy your password into virtually any other form. If you want to find out more about AutoType, read this.
Download Windows 7 Password Manager