One of the most requested Windows 8 features is a file converter, at least according to our current poll! If you regularly convert images, audio files or PDF files, then download this file converter for Windows 7: FileBlender – despite a minimalistic GUI, it can convert a lot of stuff!

FileBlender allows you to convert dozens of file formats and is 100% freeware. Something like that should definitely be included in Windows 8! It even supports batch converting multiple image or audio files!
All you do is to drag your file on that little interface and it will give you several options to convert your file or set it as a background wallpaper if it's an image: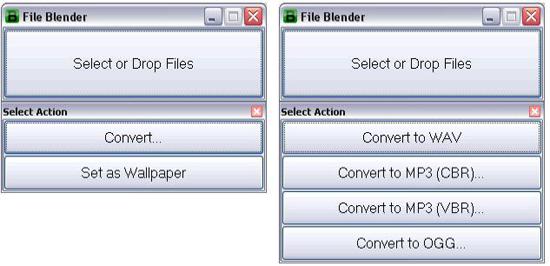 Currently the following file formats are supported, so that you can convert files between them:
Image Converter: BMP, JPG, PNG, GIF, TIF
Audio Converter: MP3, WAV, FLAC, OGG
PDF/TIFF Splitter and Joiner
JS/CSS Minifier and Obfuscator
Supported File Formats
For the complete list of supported file formats, press F1 when the tool is opened.
Audio File Conversion:
FLAC to WAV, MP3,
WAV to FLAC, MP3,
MP3 to FLAC, OGG, WAV
OGG to FLAC, MP3, WAV
Image File Conversion:
BMP GIF ICO JPG JPEG PNG PSD PSP TGA TIF TIFF WMF to BMP GIF ICO JPG JPEG PNG PSD PSP TGA TIF TIFF WMF
BMP GIF ICO JPG JPEG PNG PSD PSP TGA TIF TIFF WMF to Resized Image
PDF Conversion
PDF to Split PDF
CSS + JS Conversion
CSS to CSS Minified
JS to JSS Minified and Obfuscated
Advanced Options
Despite the simple interface File Blender can convert a lot of file formats. With a simple right-click on an action e.g. "Convert" or "Resize" you can open the file conversion options and edit advanced settings:
acceptFormat=BMP,GIF,ICO,JPG,JPEG,PNG,PSD,PSP,TGA,TIF,TIFF,WMF
acceptMulti=true
So, let's say you don't want File Blender to accept multiple files or you want to debug File Blender then you can change that here.
Download File Converter for Windows 7

Batch File Converter for many audio and video formats. Supports Windows 7 32-bit. Did not work properly on a test run on Windows 7 64-bit.