I was looking for a free Audio Converter for Windows 7. The internet is flooded with a massive amount of shareware converters and I am tired of it. Obviously, no one wants to pay $20 for something they can get for free unless it has some special features. Finally, I found a tool that allowed me to mass convert WAV to MP3 files in Windows 7.
Mass Convert Audio files to MP3 or WAV

The Switch Sound File Converter supports conversions for many audio formats, among them WAV, M4A and WMA
The tool is fully compatible with Windows, Vista, XP and supports 32-bit and 64-bit.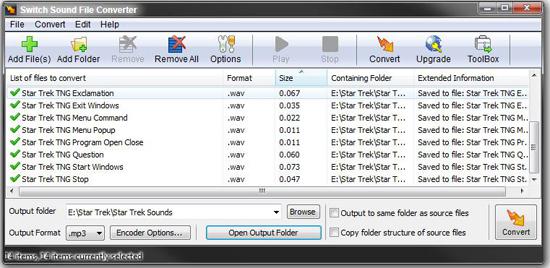 Free Audio Converter Features
Batch Mass Converter for Audio files
Access DB for Album, Artist, Track Information
Background mode for mass conversions
Possibility to add converter to context-menu of Windows
Customize Overwrite/Conversion Options
Switch Sound File converter even includes a batch audio converter to mass convert audio files. Let's say you'd want to mass convert your MP3 collection then you could do this with a few clicks!
For CD Tracks the Sound converter can even access a free database server that stores CD Album details. So it could convert your files like that:
[Artist] – [Track Name].[FileExtension]
Optionally, if you are mass converting audio files you can run Switch in Background Mode. It's slower but you can freely use your computer while you are converting thousands of files.
The FREE audio converter will also tell if you are running out of space and you can add 3 conversions directly to your context-menu, e.g. Convert to WAV, Convert to MP3 and Convert to WMA.
For a free tool it also includes many options that allow you to customize the behavior of the tool when an audio file already exists, e.g. overwrite, delete, ignore, append number, abort, prompt, etc. etc.
Download Free Audio Converter for Windows 7
You can download the audio converter for free at http://www.nch.com.au/switch/plus
Supported Audio File Formats:
wav, mp3, wma, mp2, m4a, ogg, avi, mid, flac, mov, amr, aac, mpga, dct, au, aif/aiff, raw, dvf, vox, cda, gsm, dss, sri, shn, dss, msv, wmv
Convert TO MP3:
aac to MP3
aiff to MP3
aif to MP3
amr to MP3
ape to MP3
au to MP3
flac to MP3
gsm to MP3
m3u to MP3
m4a to MP3
mpc to MP3
ogg to MP3
pls to MP3
raw to MP3
rss to MP3
spx to MP3
vox to MP3
wav to MP3
wma to Mp3
wpl to MP3
Convert TO WAV:
aac to WAV
aiff to WAV
aif to WAV
amr to WAV
ape to WAV
au to WAV
flac to WAV
gsm to WAV
m3u to WAV
m4a to WAV
mpc to WAV
ogg to WAV
pls to WAV
raw to WAV
rss to WAV
spx to WAV
vox to WAV
wav to WAV
wma to WAV
wpl to WAV
Convert TO WMA:
aac to WMA
aiff to WMA
aif to WMA
amr to WMA
ape to WMA
au to WMA
flac to WMA
gsm to WMA
m3u to WMA
m4a to WMA
mpc to WMA
ogg to WMA
pls to WMA
raw to WMA
rss to WMA
spx to WMA
vox to WMA
WMA to WMA
wma to WMA
wpl to WMA