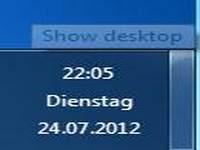 Ever noticed that when you hover with the mouse over the system tray bar that shows the desktop that it will have a short delay? You can change this delay to 0!
Pro Tip: You should backup your registry first – better safe than sorry
1. Step Open the registry editor:

2. Step Enter regedit into search bar, hit Enter
3. Step Now go to HKEY_CURRENT_USER\Software\Microsoft\Windows\CurrentVersion\Explorer\Advanced
4. Step In the right pane, right-click and create a new DWORD-32 bit key. Keep in mind, even if you are on a 64-bit system you have to create a 32-bit key.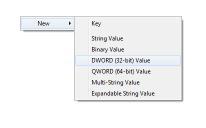 5. Step Enter DesktopLivePreviewHoverTime as the name of they key with the value "0" without quotes
6. Step If you want to test this right away, kill the process explorer.exe in your task manager via CTRL + ALT + DEL – after starting explorer.exe again you can see it works right away
Did not work? No worries, download our registry tweak (tested and works)
This is pretty handy if you want to speed up your day-to-day activities. If you want more registry tweaks like this one to be featured on our homepage please share this on Google+ and let us know in the comments what other things you want to speed up
If you liked this tweak, you may be interested in our other tweak to speed up Windows menus