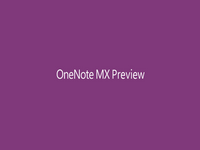 It might not be available for long, but the OneNote MX app is the first to be designed for Windows 8, and bloggers are seeing how it performs.
Windows 8 isn't out and therefore we can't take a look at what apps designed for the platform look like
A Metro version of OneNote is available from the Windows Store, seemingly the first designed for the operating system's new UI. It's been tested, so here's how the app performs.
To get the OneNote MX app, head to the Windows Store and search for OneNote. Log in with your Microsoft account and then download the app, and users will be connected with OneNote notebooks stored in SkyDrive, Microsoft's cloud storage service integrated into the operating system.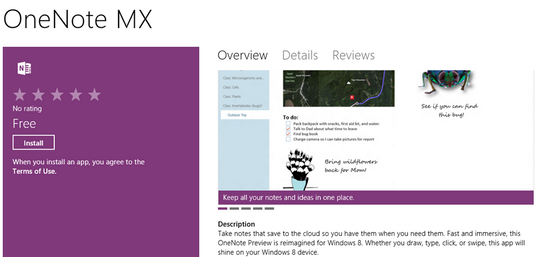 The description of the app says users can take note to save to the cloud; users can also draw, swipe or click when interacting with the apps – not surprising considering Microsoft wants multiple kinds of devices running its next-generation of Windows. It's also possible to edit notes in the browser or through a mobile app.
It's Metro!
Features are the ability to write to-do lists with check boxes to know when tasks have been completed, to draw with a device's pen, to take pictures to put on notes, and customize formatting which includes tables, bullets and colors. The app also works with the search charm on the right-hand side of screen, so it sounds like you can search for keywords or maybe even archived notes, and there's support for Snap View: OneNote and another app can be snapped alongside each other for using another app as reference, Microsoft says.
For accessing functions, there's a wheel with functions such as undo, paste and the ability to insert a table. It's something new to Metro apps, as far as we know anyway, though when Windows 8 launches later this year, we're probably going to see this wheel everywhere. It might even make apps fun if you can spin the wheel.
OneNote is a sneak peek at what we'll see when Windows 8 arrives late October. All we've seen thus far is the square, tile-based UI. That's great, because there needs to be a connective tissue across Windows 8, but there needs to be creativity.