Remote Desktop is disabled by default in Windows 7, but it is easy to turn it on


Important note: Remote desktop is only available in Windows 7 Professional, Business, or Ultimate versions of Windows 7. Home editions do not include the remote desktop feature.
(1) Go to the configuration page. Right-click the Computer icon on your desktop or the entry "Computer" on your Start Menu and select properties.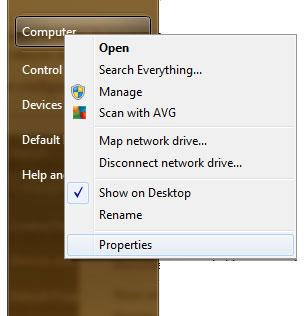 (2) Next, click on Remote settings on the left


(3) To connect from another Windows 7 PC on the same network, Choose the bottom radio button (Allow connections only from Computers running Remote Desktop with Network Level Authentication).
If you want to connect from a Windows XP/2000 machine, choose the "Allow connections from computers running any version of Remote Desktop" option.