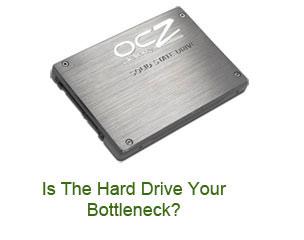 A new poll is up. This time we want to know if you own a SSD, if you plan to get one or if you think that this only a stupid hype that doesn't deserve any attention. Poll after the break.
The Hard Drive: The Bottleneck
You can't deny that SSD's are a great way to speed up your boot time and applications. The hard drive is usually the slowest part in most high-end computers. If you got a nice PC with top-notch CPU, RAM, graphic card and motherboard but a crappy and very slow hard drive, you will still complain that your computer is slow. The same is also true if you don't regularly monitor your disk activity and disable unnecessary services, e.g. make sure to disable system restore.
Vote Now
The hard drive is the bottleneck. Is this about to change?