Have you recently used the Windows Resource Monitor to monitor your disk usage? Did you notice that there's a process causing a lot of disk IO and writing constantly to C:\System Volume Information? If so, here's a solution how you can avoid that and decrease your disk activity.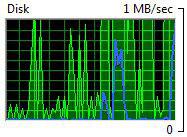 System Restore Feature: Blessing or Curse?
C:\System Volume Information is being used by the Windows service "System restore". In order to be able to restore Windows 7, the system restore feature apparently constantly stores system information in this folder. As you can imagine, that is causing a lot of disk activity. You will have to disable it to avoid that (see link below).
Unfortunately, the system restore feature is highly controversial. Some swear that they use it a couple times per month. Personally, I have never used it and probably never will. If my computer has a problem, I find a way to fix it, rather than relying on a system restore that could possibly break the system.
Tip: If you rely so much on the system restore, you should read some of our tutorials and get a decent backup HDD and software.
Disable Windows System Restore
If you want to stop the high disk activity, you will have to disable the system restore feature. This is really easy.
Read our tutorial how to disable system restore in Windows 7
Another Service Causing High Disk Activity: Windows Search Indexing
There's another Windows service that causes a lot of disk activity, that is the search indexing service. The indexing service speeds up your Windows search, but you can also use other tools with smarter indexing algorithms and disable it.
Read more here: Delete Windows.edb