Temporary files not only occupy a lot of disk space, they can also contain malicious internet files. There are lots of reasons why you should delete temporary files regularly in Windows 7.

Delete Temp Files via Temp File Cleaner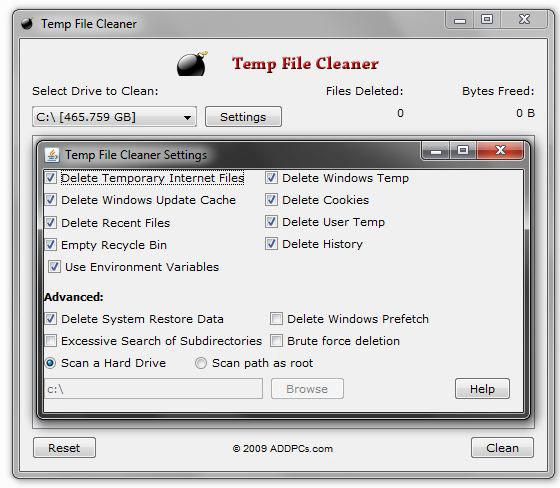 The tool that I recommend to get rid of temporary files is the "Temp File Cleaner". The tool will get rid of temp files, cookies, recycle bin files, user temp, windows update cache, history and all recent files.
So, basically it deletes all temporary files in Windows 7 even if the files are locked. It also scans other user accounts on your PC and deletes their temporary files (if you have permission to do that).
How to delete temporary files manually
Temp File Cleaner is the quickest way to get rid of all the garbage and temporary files. If you don't want to rely on this "all-in-one" solutions to remove temp files, browsing history, cookies and other files, here are several guides that will help you to delete the files manually:
Delete temporary internet files in Windows 7
Delete browsing history in Windows 7
Delete cookies in Windows 7
Clear Index.dat file (file with all URL's that you have ever visited)
Location of temporary internet files