If you want to clear your temporary internet files in Windows 7 you will first need to know the location. You will also need to know how to show hidden files in Windows 7.

The location of the temporary internet files in Windows 7 is:
C:\Users\[yourusername]\AppData\Local\Microsoft\Windows\Temporary Internet Files
But wait, before you try to locate them, you should know how to view them:
How to view temporary internet files in Windows 7
Before you can actually see your temporary internet files, you will have to make sure that you can see hidden files.
In order to show hidden files in Windows 7, you can read our tutorial: Show Hidden Files in Windows 7
Here's a quick summary: Open the Explorer (Windows key + E), then click on Organize, Folder and Search Options: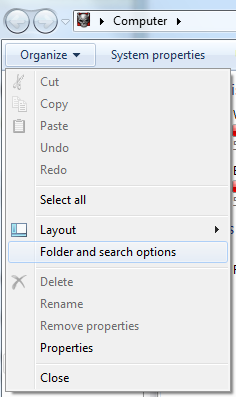 Go to the tab "View" and uncheck "Hide extensions for known filetypes", "Hide protected operating system files" and check the option "Show hidden files, folder and drives".
Next, browse to the location of the temporary Internet files on your PC (note the location can be slightly different if you did not install Windows 7 on C:/
Once there, you can then view and clear all temporary internet files.
Locate index.dat file & other privacy threats
Locating and removing the temporary internet files is a first step to more privacy in Windows 7, but the temporary internet files are actually less of a problem than other files that are constantly collecting information about.
I am talking about the index.dat file, browser cookies and the browser history. If you want additional information about them, read our tutorials:
How to delete browsing history on Windows 7
How to delete Cookies on Windows 7
How to clear index.dat in Windows 7