If you want to improve your task management and plan your daily schedule, check out the following task manager iPad apps that could boost your productivity.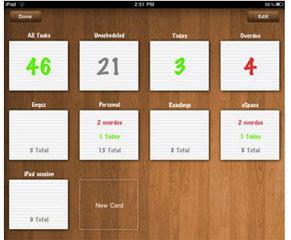 The iPad is a perfect productivity tool for any professionals and individuals who want to better manage their time, tasks and schedule. With its ultraportable design, long battery life and tons of apps on the marketplace, you can make it the only device you ever need to carry with you that will make you more productive. Here are just a few apps that you should consider if you want to increase your productivity and manage your life and work better:
Task Manager #1: Toodledo iPad App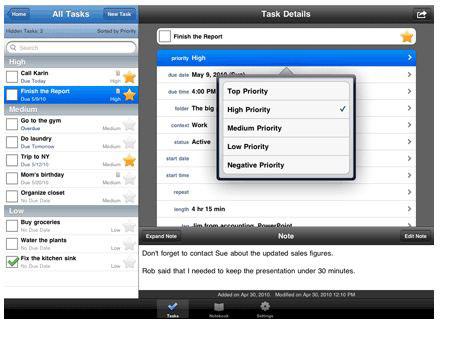 Toodledo. Toodledo is one of the most popular task managers and note taking applications for the iPad. You can use it to manage your daily schedule, tasks and even small projects, making your work more effective and increasing your overall productivity. It can be used as a standalone app or in conjunction with the wonderful Toodledo.com service, for even more task management possibilities. Toodledo doesn't have a ton of features – it manages to keep them to a minimum, but every one of them is useful and not there "just because".
Task Manager #2: Tisk Task iPad App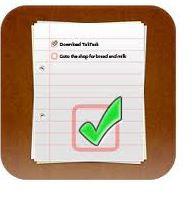 Tisk Task. Tisk Task is a simple looking and sleek task manager for the iPad, which offers a nice range of features at a very acceptable price. The interface looks cool: it's like a desk with sheets of paper on which you can plan out your tasks and To Do lists. Tisk Task can be used for anything, from shopping lists, to managing a daily schedule and planning you vacation – and unlike a real paper notebook, it lets you set reminders for various times and edit the tasks on the go, as you see fit.
Task Manager #3: Taska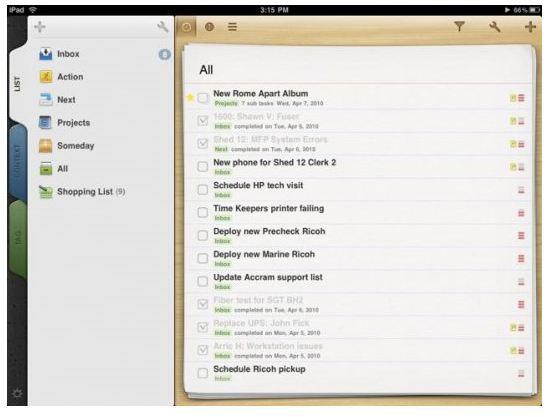 Taska. There are many task managers for the iPad, but few of them get close to the efficiency and good looks of Taska. This app is a must, especially considering that it offers so much more than its competitors at a fraction of the price. The interface looks very nice, reminding of a real paper notebook, and the task management is very fast and simple thanks to the drag & drop capability. Beginner users will have no problems starting using Taska, but under the surface, the app has much more features that will benefit advanced and power users – you can easily manage whole projects with this app! Sure enough, you can sync it with your iPhone and Mac, and there's even support for Toodledo.com – handy if you're already using the service.
Task Manager #4: Task Cards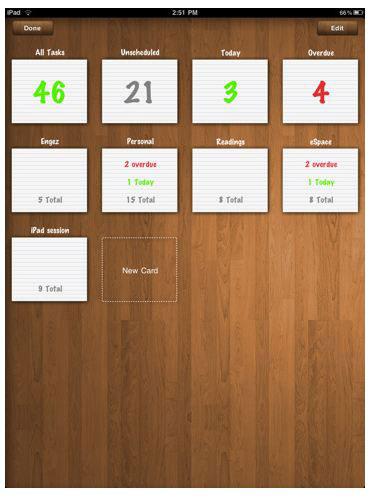 Task Cards. Task Cards takes a new approach at task planning and management, letting the user create tasks on different "cards" on a desktop, instead of bunching them together on the whole screen or different big panels. This makes it simpler to organize and prioritize tasks based on various criteria – a useful feature for busy people. The cards can also be used to take notes, if you like, and managing them is easy thanks to the integrated search function. If the usual task organizers and GTD methodology doesn't appeal to you, you should definitely try Task Cards – maybe the new approach is just what you need.
Task Manager #5: OmniFocus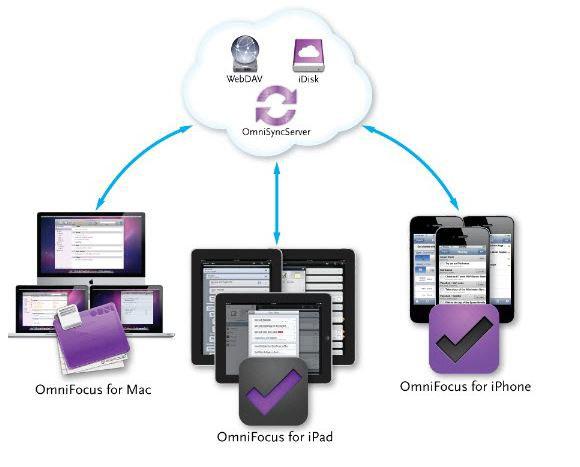 OmniFocus. OmniFocus is the most expensive app on this list, but it's also the one with the most features. It's practically a full-fledged project planner that can be used to manage your daily tasks and schedule, as well! The list of features is impressive – OmniFocus has support for multiple view modes, location-aware tasks, voice control, detailed task options, resources and multiple reminders, forecasting, subtasks, syncing with MobileMe and other services – and that's just the beginning! If you need a serious task management app for serious applications, OmniFocus is your best bet.
There are many other task and time management apps, but few come close to the ones in this list. You should definitely check them out when you get the chance – they can change the way you work, think and live!