A new version of Digsby, an all-in-one messenger, has been released. If you have never heard of Digsby, I would give it a try, because it's the best all-in-one messenger out there! It combines Facebook, Google, Yahoo, Myspace, ICQ, MSN and many other networks in one great applications.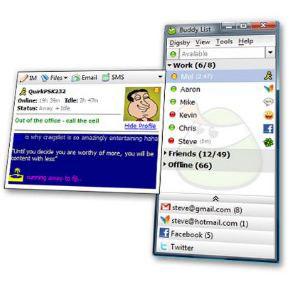 If you hate it to start several IM apps at the same time to stay in contact with your friends on MSN, but also with those on Facebook, you will appreciate this app that will simply combine all of the IM's. Aside from that it also looks a lot better and works just as well, if not better, than the original IM (Windows Live Messenger, ICQ, etc.). Some networks like Facebook or Myspace don't even have their own IM, so Digsby is the only alternative.
Download Digsby for Windows

So, what's new in the latest Digsby version? Formatting options like bold, underline, italic can now be applied to single characters instead of just words. Digbsy is also using the URL shortener bit.ly now instead of their own.
Digsby has full Windows 7 support, it allows you to access specific tasks right from the taskbar: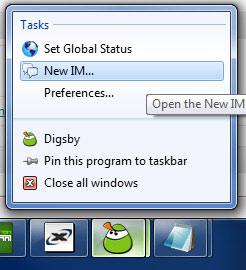 Digsby also comes with a lot of great themes and skins! Even a Digsby Windows 7 Theme is included and there are loads of others skins!
One of my favorite Digsby themes is the MAC theme:
Digsby is 100% free, so give it a try!