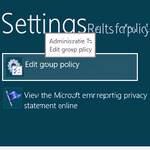 If you are wondering how to edit group policies in Windows 8, read this tutorial.
1. Step Open the Metro desktop and open the search. We highly recommend to install the Windows 8 Metro Start Menu "Start8" if you are not familiar yet with Windows 8
2. Step Search for policy

3. Step Click on edit group policy
4. Step You can now uncollapse for example Administrative Templates to edit certain Admin policies. This can come in quite handy.