We have taken a close look on Viber, a free VOIP app for smartphones, released on Windows 8. For full review, read the article.

What is Viber?
Who doesn't use Viber these days? A popular and free VOIP sms and calling application for Android, Windows Phone and Apple has officially launched for Windows 8 and RT. This application was launched in May 2013 and since then gained quite popularity amongst Windows users. This week, we finally got our hands on this new app from Windows Store. With everything that you can imagine from this application, plus having a robust interface and smooth graphics, Viber for Windows 8 is one app that should be on your must-have list. Read below for a full review of this application.
Configuring the application
However, before proceeding further, it would be worthy of mentioning here that if you do not have Viber installed and configured on your iOS, Android or Windows Phone, you would not be able to use it on Windows 8.
Download and install Viber
Head to the Windows Store now and download Viber. Upon the first launch, setting up is easy. Enter your cell number to receive a verification code through sms. Now enter the verification code on Desktop and you are all good to go!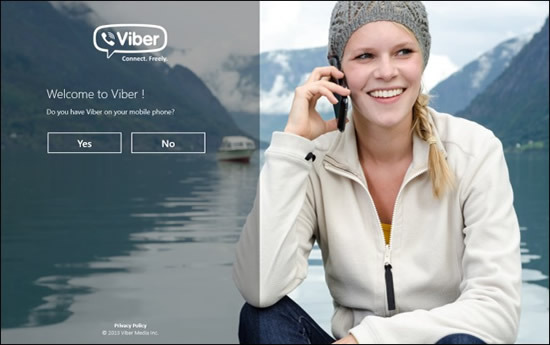 With same colors and themes, the main screen of Viber after you sign in is no different than what you see on your smartphones. Make free calls, send free sms, and have a 40-particiapant group created easily. You can also send files, photos and other media files to your contacts.
We all know that Windows 8 has a Metro functionality with it, which keeps up updated on live updates from various apps connected to the internet. In a similar way, your Viber is connected to the internet and keeps on updating you with sms and call notifications. Get live tile updates and pin conversations in the Metro Menu. Just like Skype for Windows 8.1 snap, so can Viber so that you work on other apps letting Viber to run in the background silently. Please note that there are 2 limitations:
1. StepYou cannot send voice messages
2. StepYou cannot make video calls
These 2 features are missing from our review of this Windows 8 app. However, you can make free HD audio calls with crystal clear voice quality provided that you have a reliable internet connection. Whenever you click on any contact, you can start the conversation and make a voice call through the left button on every contact's window. You can also transfer calls to and from your desktop device and your smartphone.
Conclusion
Although Windows Store has a serious dearth of applications just like the Google Play and the Apple App Store, it has seen quite big improvements in 2013 such as the introduction of Facebook, Photoshop and other nice apps. Viber is free and works perfectly fine on Windows 8 and 8.1