Looking for the best DVD authoring software for Windows 7? Here are the top 5 DVD authoring tools that support Windows 7.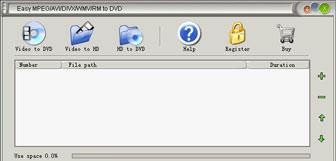 With the right software, creating a playable DVD or Blu-ray disc is easy. The available software varies in price, ability, and size, but all of the software listed here could take the place of best DVD authoring software for Windows 7. Which one to purchase really depends on what the software will be used for as well as the capabilities (memory and CPU) of the computer it will be installed on.
Easy MPEG/AVI/DIVX/RM to DVD

Easy MPEG/AVI/DIVX/RM to DVD does exactly what its name describes; it can burn multiple file types onto DVDs. Its name is also the most complicating thing about the software, since it features easy one click DVD burning. It can save the DVD image to the hard drive or transfer the image from the hard drive to a blank disc. Supported disc types include DVD-R, DVD+R, DVD-RW, and DVD+RW. Up to three hours of video from multiple movies or files can be merged and burned onto the same DVD disc.
Nero Multimedia Suite 10
Nero 10 Platinum HD can do just about anything. Its installation file is 367.86 MB and it requires 1.5GB of memory once it is installed. Nero works incredibly fast, so that projects can be completed with ease. It also supports the capture and editing of HD, so that user can burn, back up and play Blu-ray discs. Other features of the software include the ability to edit MP3s, data recovery from damaged discs, and cover art for the burned discs. In addition, Nero has the Move-It plug-in, which allows for the conversion and transfer of content to mobile devices.
TMPGEnc Authoring Works
TMPGEnc Authoring Works allows for the authoring of DVD-Vido, Blu-ray and DivX Ultra. There is an easy-to use interface with a five stage process that guides users through the steps of creating a DVD or Blu-ray, so that anyone can use the program. For those with more computer experience, stages can be skipped or returned to as needed. Users can edit out commercials, add or edit subtitles, and create custom interactive menus. As a result of Smart Scene Search, finding the next scene change in a movie is as easy as clicking the middle mouse button.
CyberLink Media Suite and PowerDirector 9
CyberLink Media Suite is a 12 in 1 package that includes PowerDVD 10, PowerDirector 8, Power2Go 7, and MediaEsspresso, to name just a few programs. The package is ideal for users who want all around media experience, with the ability to play, record, and edit movies, music, and photos. However, Media Suite only includes PowerDirector 8 and those who are serious about DVD authoring should consider forgoing the suit and purchasing PowerDirector 9 instead. It is focused solely on creating and editing DVDs, and it is packed with extra features and capabilities.
DVD Flick

DVD Flick is an open source DVD authoring software. It is completely free to download, but offers much less than some of the more expensive packages. It is a very small download, requiring only 12.35 MB, and it can't do much beyond basic DVD authoring. It supports over 45 file formats, 40 audio codecs, and 60 video codecs. It allows for the creation of DVDs and the input of custom audio tracks. Users have the option of adding subtitles or a menu to their DVDs. However, DVD burning requires an additional download, ImgBurn, and the program is somewhat complicating to get the hang or.
The best DVD authoring software for Windows 7 is a program that will do exactly what you need and will work well on your computer. All of the above programs can get the job done, so which one qualifies as the best DVD authoring software for Windows 7 varies with your needs and your computer's capabilities.