Looking for a good blu-ray player for Windows 7? Review of PowerDVD 11.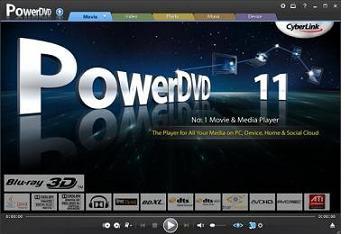 Across the board, users hail Cyberlink's PowerDVD 11 as the best Blu-ray player for Windows 7. It plays a large variety of video formats, supports 3D video, and allows for the editing of home videos. However, these features, including the ability to play Blu-ray and Blu-ray 3D, are only supported on the priciest version of PowerDVD.
Cost
People who want to use PowerDVD 11 as a Blu-ray player need to splurge for the Ultra version, since the Deluxe and Standard versions don't support Blu-ray playback. The Ultra version also features the ability to play 3D TV and 3D Blu-ray. Those who don't want to spend that much on a media player, but still want the ability to play Blu-rays and Blu-ray 3D, should consider purchasing PowerDVD 10, which can do both but costs significantly less. Bear in mind, though, that even PowerDVD 10 is not cheap and some features are unique to PowerDVD 11.
What's Been Upgraded
Released in April 2011, PowerDVD 11 has a number of features that the older versions are missing. There is a new decoding method so that the media player takes less of a toll on the CPU. PowerDVD 11 can also support the playback of recorded 3D TV Blu-ray discs. Much of the 3D capabilities have been updated, and users can now convert photos and movies from 2D to 3D, and even create 3D slideshows. Support for pictures is a new feature as well, and the player has also been upgraded to support smartphones.
Requirements and Technical Specifications
PowerDVD 11 Ultra can be installed on both 32 bit and 64 bit versions of Windows 7. It requires 300MB of hard drive space and 2 GB of memory. A HDCP compliant display is needed for playing Blu-ray discs. It is recommended that the gPU be updated to the latest version to support Blu-ray discs and/or 3D playback. PowerDVD 11 has what CyberLink refers to as HD Audio. It supports HDMI 1.4 and 5.1 DTS, and has lossless pass through for DTS-HD Master Audio and Dolby TrueHD.
PowerDVD Remote
The PowerDVD Remote app is free with the purchase of the Ultra version of PowerDVD 11. It is supported by iOS 4 and Android 2.2, and allows users to turn their smartphones into a remote control. Like any remote control, it allows users to play, pause, stop, fast forward, rewind, and generally navigate the Blu-ray disc from their smartphones. The smartphone can also be used as a wireless mouse touch pad for the Blu-ray player. In addition, the app can be used to stream media from the smartphone to the computer through the home network.
The best Blu-ray player for Windows 7 seems to be CyberLink's PowerDVD 11. Though it is not cheap, many users feel that it is worth the price. It provides extensive Blu-ray support and can play just about anything in 3D. The PowerDVD Remote app allows for the seamless integration of smartphone and computer, so that media playback is as convenient as possible. If you are looking to purchase the best Blu-ray player for Windows 7, consider buying the PowerDVD 11.