Want to get rid off malware? read this tutorial by Vivek N. that will teach you how to remove malware from your Windows 7 PC!

Malware are small malicious programs which are developed by people with destructive mentality and are, in most cases, not welcomed in the computer systems as they can be harmful for it. Although all antivirus applications nowadays ship along with a built in anti-malware definition, however it is always recommended to use a precise application which is designed to solve the purpose. Microsoft has followed the recommendation and therefore it has developed a program named Microsoft Windows Malicious Software Removal Tool. This tool can be downloaded free of cost from the Microsoft official website and is compatible with Microsoft Windows XP, Windows Server 2003, Windows 2000, Windows Vista and Windows 7 operating systems. Link to the download location and instructions for installation are given as below:
Logon to Windows 7 computer with any account that has administrative privileges.
Download Microsoft Windows Malicious Software Removal Tool from http://www.microsoft.com/security/pc-security/malware-removal.aspx URL.
Once the download is complete double click the software and on welcome page click on Next button.
On Scan Type page choose appropriate radio button to scan your system as per the severity of the malware and click on Next button to start the scan.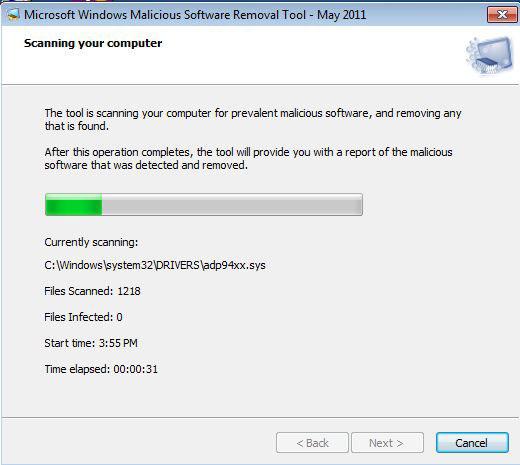 After the scan is complete view the results and click on Finish button to close the application.