If you want to save time by using several keyboard shortcuts to open files or programs, then you should read our review of EvoKeys, a small free utility for creating keyboard shortcuts.
Using Keyboard shortcuts
If you are like me, chances are that you might be using keyboard a lot of times to navigate through your PC. I do that all the time while in File Explorer, Word and other documents as it is convenient and saves me hassle and time. However, if you want to make the best out of your keyboard shortcuts, a small desktop utility can help you out. It is called EVOKEYS. The program allows you to run any type of file, program, folder or utility through custom hotkeys. The best part of this application is that you can specify keyboard shortcuts of your own choice to launch programs and/or files. Once a keystroke is configured, anytime you use the shortcut keys, the command triggers automatically.
EvoKeys, a simple shortcut key program
About the program, it isn't the most user-friendly program available, however it does work with minimal system resources. The desktop application is light, simple, easy to use and very straightforward. There is no level of complexity and can be used by any computer user, whether beginner or expert. The program sits nicely in the system tray of your desktop once launched. When it runs in the background, it does not eat up the system's RAM.
When you first launch the program, it shows an empty list, but once you start adding the shortcut keys, the program would show them in this list. This can be done by clicking on Add Button. Once you have done with adding these keys, you can easily launch the program by double-clicking on them.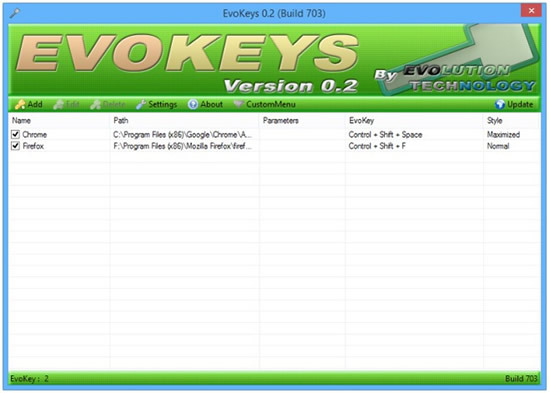 When you click the Add button, it brings up a new popup. What you need to do, is specify the name of file, folder, or program, and specify the full path along with the Evo Keys. The program also allows you to set the state of the windows when the shortcut key is initiated.
Additional features of EvoKeys
Not only that, EvoKeys also lets you to standby, shut down, hibernate or restart your system. If you click the CustomMenu button in the top right, you would see a readily-made shortcuts to My Computer, My Documents, Control Panel, Command Prompt and many more. Just click on any one of these and you would have the selected options' shortcut keys created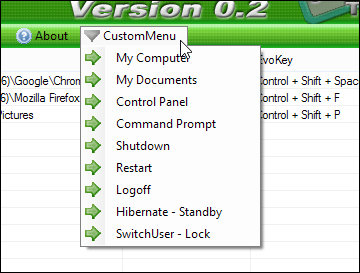 A small and simple program, EvoKeys has worked fine on Windows 7 and 8. This version was tested on Windows 8 and is provided free of cost.