Do you want to make some cool ringtones for your iPhone? Here are 4 of the best free ringtone maker software tools for Windows 7: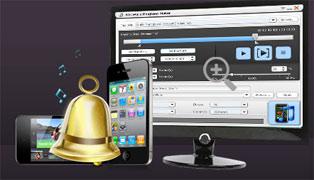 If you're looking for a unique ringtone, you can download it from any number of online stores, and your cell service provider probably offers them too. However, you probably already own your favorite songs in some format or another, so why should you have to pay again for a clip of it? Free ringtone maker software for Windows 7 allows users to take an existing song and turn into a ringtone.
MP3 Cutter Plus

MP3 Cutter Plus allows users to cut MP3 music files so that they are small enough to be used as ringtones. This piece of free ringtone maker software for Windows 7 is fairly small and basic. It only works with MP3 files and cannot convert other file types. However, that seems to be the only downside to the software. According to customer reviews, the program does exactly what it claims. It installs quickly and easily and is fairly simple to use.
ToneThis Ringtone Maker
In addition to creating ringtones, ToneThis Ringtone Maker can also be used to create video ringtones and wallpaper for mobile phones. The software allows users to crop a picture or edit a song to make the file small enough to be compatible with a mobile phone. The file is uploaded to the cell phone carrier and then downloaded to the phone. Users who want new wallpaper pictures can search Flickr directly from ToneThis. Recently, the company created a toolbar that can be used in Firefox, which allows images and sounds from the Internet to be edited and processed very easily.
AVCWare Ringtone Maker

AVCWare Ringtone Maker can convert almost any kind of media file into a format that is compatible with mobile phones. Supported formats include MP3, WAV, M4R, M4A, OGG, and AMR. Movie soundtracks can be cut into music segments as well, and the length of the ringtone can be specified down to the millisecond. In addition, this piece of free ringtone maker software also allows users to add special effects, like fade in and fade outs. There is no Help file included with the software, but it is fairly simple and easy to learn.
MediaJet Software's Free Ringtone Maker Platinum

Free Ringtone Maker Platinum lets users edit their sound files visually on a zoomable waveform. The program is lauded for its ease of use and simplicity, even by those with very little computer expertise and technical know how. The program supports a huge array of input formats, including OGG, WAV, MP3, MP2, VOX, RAW, CDA, MPC, and MPGA. The software's website advertises support for a variety of output forums, but that is only for the paid version of the software. With the free version, only WAV output is possible.
The latest smartphones can hold many more audio files than the typical iPod, but people are still relying on the same boring preloaded ringtones. If you want a ringtone that is completely unique, but you do not want to pay to download it, consider using a free ringtone maker software for Windows 7.