This might be really easy to do for some, but some readers asked me to write a tutorial about this. So, here we go. Let's uninstall Windows 7 themes and delete all of them that are no longer wanted! I'll also add a few lines about uninstalling shell themes for advanced users.

You can easily uninstall .themepack files, but it is a bit more complicated to uninstall custom 3rd-party Windows 7 themes if you no longer have the original system files:

How to uninstall/delete .themepack themes
Windows 7 themes can be uninstalled very easily thanks to the Personaliation Control Panel.
1. Step Right-click on your desktop and click on Personalize:

2. Step Scroll down the list of installed Windows 7 themes until you find the theme that is currently selected:

3. Step Let's assume you want to uninstall the selected Windows 7 Borderlands theme. Selected Windows 7 themes can NOT be uninstalled, you will first have to select another theme. Select another theme

4. Step Now, right-click on the theme that you want to uninstall (it may not be selected/applied) and click on Delete theme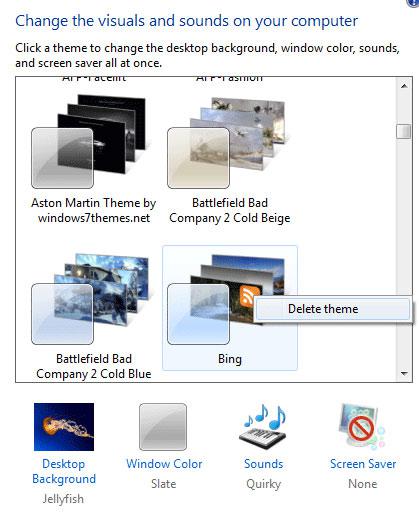 5. Step Windows 7 will now ask you if you really want to delete the theme. The theme will be moved to the recycle bin and can still be restored until you empty your recycle bin.

6. Step Click on yes to uninstall the theme. It will not be deleted for good, but it will disappear from the Personalization Control Panel.
How to uninstall/delete custom shell themes
Do not proceed with this if you don't know what shell themes are. Chances are, you might end up breaking your system.
As you might know shell themes, also known as custom 3rd-party themes, modify critical system files like explorer.exe, explorerframe.exe, shell32.dll, Ooebefldr.dll, timedate.cpl and many other files that store Windows icons and designs. Therefore, uninstalling means restoring the original system files.
1. Rename your current system files to filename.bak
2. Restore the original system files
3. Reboot to apply the original Windows 7 theme

Don't have any original system files? Continue here!
You can only proceed with uninstalling shell themes if you have a backup of the original system files. If you don't, there is a way how to restore the original system files or you can apply another cool Windows 7 shell theme.
Read this guide to restore your original system files
Read this guide to easily install Windows 7 shell themes