If you are wondering if you can play Skyrim. Check out the recommended Skyrim specs.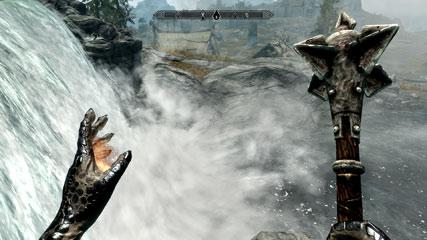 The recommended system specs are not that high. If you have a Geforce GTX 260 or better or an ATI Radeon 4890 or better, you should be able to play Skyrim and enjoy a smooth FPS.
You simply have to check the model of your graphic card. If you don't know what graphic card you have read this: What graphic card do I have 
Geforce
GeForce 200 Series (OK)
GeForce 400 Series (Good)
GeForce 500 Series (Best)
ATI
ATI Radeon 4000 Series (OK)
ATI Radeon 5000 Series (Good)
ATI Radeon 6000 Series (Best)
Recommended Specs for Skyrim
Windows 7/Vista/XP PC (32 or 64 bit)
Processor: Quad-core Intel or AMD CPU
4GB System RAM
6GB free HDD space
DirectX 9.0c compatible NVIDIA or AMD ATI video card with 1GB of RAM (Nvidia GeForce GTX 260 or higher (i.e GTX550Ti); ATI Radeon 4890 or higher).
Very important is that you have more than 2GB of RAM, 4GB is recommended. A Quad-Core CPU is needed for a good framerate