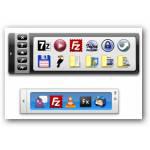 If you want to quickly launch apps right from your desktop, you should try one of the following application launchers. Handy!
Desktop Application Launchers provide users a new and simple interface to launch applications and webpages directly from their desktop.
Appetizer: Open Source Desktop Launcher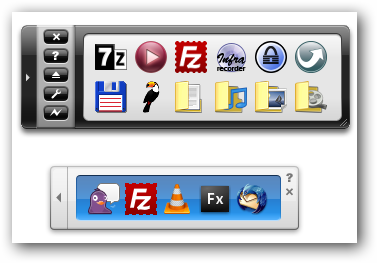 This Application Launcher software was developed by Laurent Cozic. The primary release of this software was in the year 2008. This open source application launcher software is available for various Windows operating systems and also available in twenty-five languages. Features like Skinning, Plugin support, working ability with USB and portable devices are present. Various custom icons and icon groups are supported by this software.
Appetizer also includes a 'Wizard' that can automatically import various shortcuts from various locations.  Appetizer can also resize icons. The main advantage of this software is that it is free software and is very easy to use.
RocketDock


RocketDock is a dock or application launcher software developed by Punk Labs. This software has separate versions for operating systems like Windows and MAC. Various features like Unicode compliant, great running ability on slower computers, ObjectDock Docklet support, Full customizability, Auto-hide and Popup on mouse over, simple drag-n-drop interface, running application indicators have made RoketDock different from other software of its kind. Minimization of windows to the dock, positioning and layering options, zoom and transition of icons smoothly are also included in this software. Alpha-blended PNG, ICO icons and Multi-monitor are supported by this software. The main advantage of this software is that it is very user friendly.
ObjectDock

ObjectDock is a Dock or application launcher software developed by Stardock. This software is only available for Windows. This software has a brand new User Interface and revamped menu. This software has a great reliability and a good built-in search. This software has Adjustable transparency for background and icons. This software supports multiple monitor and has a good auto-hide option.
RK Launcher: Taskbar Replacement


RK Launcher  is a taskbar replacement. The main features of this software are zooming, new applications and customization. This software supports various themes and label transparency.
SliderDock
http://sliderdock.wikidot.com/

This "Desktop Application Launcher" software was developed by Dimitri Roozendaal. It stands out because of the circle dock that is different from other launchers. You may want to check out Circle Dock instead