With this cool gadget, you can have an analog clock on your desktop with your own custom background!
This sleek analog clock is highly customizable! You can pick any picture file on your computer to be the background. Some great uses would be to put your company's logo there, or a picture of a loved one, or a picture that always cheers you up or motivates you. You can even choose different styles of clock faces, as well as other options for customization!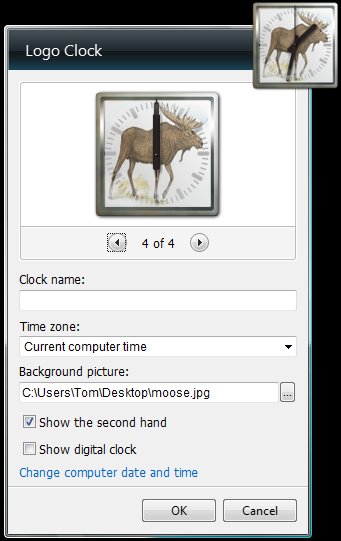 In the options window, you can choose from four different clock faces to find the one you like best. You can even give your clock a name that is displayed on the face! If you want to display a different time zone than the one you're currently in, you can select that as well; perfect for a long-distance relationship or international business. Customizing the background is simple; just click on the "…" button under "Background Picture," navigate to the picture file you want, and select okay! You can also choose whether to also display the second hand and/or a digital clock, as well. If you need to correct the time on your own computer, this clock even has a shortcut to that!
File Download
This is a custom clock for all people who want their own backgrounds on everything