This hip, retro clock has different cool options, so you can customize what information you want displayed on your stylish clock! Adds some cool glass effects and is a very stylish option for your desktop
This stylish clock is really cool! It has a retro appearance, which looks great on the desktop. It can even be set to chime on the hour and sounds just like a grandfather clock! The gadget can be set to be always on top, so no matter what you're doing you always know what time it is!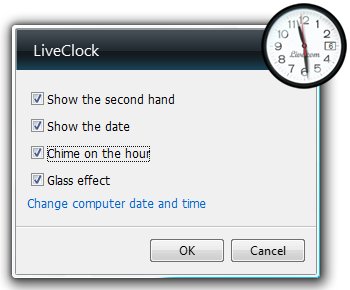 In the options, you can customize the clock. You can choose whether or not to show the second hand and the date, as well as whether or not the clock chimes on the hour. You can also turn on and off the "glass effect" on the clock. If your computer's time is incorrect, there is even a handy shortcut link to change it!
File Download
Stylish gadgets are fun to use – this clock sits right on your desktop and has the option to apply custom glass effects, show the date or show the second hand