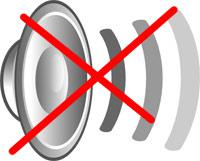 Don't have any sound? Is your play button working, but there is simply no sound? Here are 7 ways to fix it.
Quick Links
This guide includes various steps that you can try to fix the "no sound" problem. If you are bored of scrolling use the quick links:
Check Sound Volume Controllers
Check Default Playback Device
Check Audio Cables (Speaker/Headset)
No Sound in Minecraft
Update Sound Card Drivers
Enable Sound In Your Bios
Problems installing sound controller
Check Sound Volume Controls First!
The first thing you do is to obviously check all sound volume controls. iTunes has 2 controls and the system tray icon obviously also has a sound volume control that you should check.
Check The Default Playback Device
After I set up a Windows Media Center Extender to stream content from my PC to my XBOX, I suddenly noticed that my sound was gone. Whenever I used the play button it would play but there was no sound. Apparently, some additional playback devices appeared and the default was switched for whatever reason.
1. Step Enter Manage Audio Devices into the search bar on your Start menu and click the option: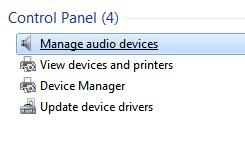 2. Step Scroll down the list of Playback devices on the tab Playback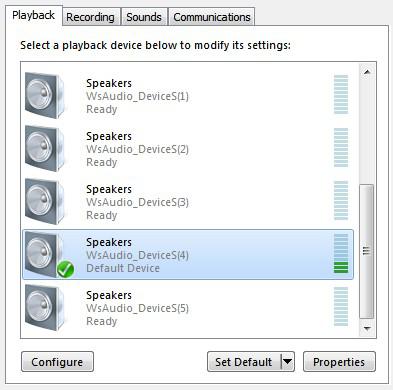 3. Step As you can see there are various Speakers labeled WsAudio_DeviceS(1), WsAudio_DeviceS(2), WsAudio_DeviceS(3), WsAudio_DeviceS(4), WsAudio_DeviceS(5)
There is a green check arrow that identifies the default playback device. In this case WsAudio_DeviceS(4) is the default and apparently there is some sound playing (green bars appear)
4. Step Now scroll the list up and you can see a couple more devices. One might be called Realtek High Definition Audio or similar. You should check the names of all audio devices and see if there is one that sounds familiar to your sound card (either PCI card or on-board sound card)
Right-click on the device that you believe is your actual sound card and then click on Set as default device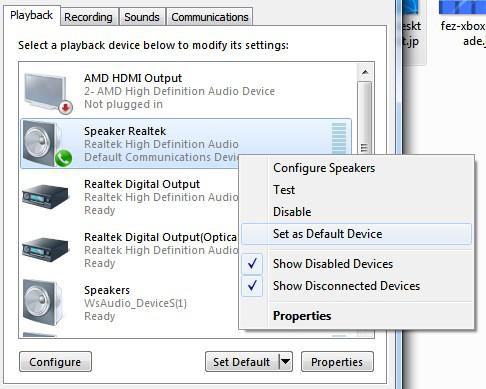 5. Step Now the green bars should show up for that device and you should hear sound again. Right?

Check Your Audio Cables
Are you using actual speakers or a headset? How old is your headset? Is the cable in a good shape? Does it sometimes have a loose connection? If so, it is very likely that your cable is broken.
Try a new headset and/or speakers
No Sound in Minecraft? Here's the fix?
Do you have sound in Windows, but don't have sound in your games e.g. Minecraft? Well, then proceed with this
When did you update your sound card drivers?
Did you update your sound card drivers frequently and the sound stopped working after a reboot? Is that possible? If so, you should make sure you installed a correct and stable drivers
If you have a Realktek card (very common) click here
Should you be unsure what sound card you have, I suggest that you look up the name of your motherboard online and check the specs a little more carefully. Let's say you have an ASUS m4a89gtd then simply enter something like "asus m4a89gtd +specs" (including the quotes) to quickly find out all about it.
Did you recently access the BIOS?
If so, it is possible that you accidentally disabled sound? If you an on-board sound card (very common) then you can disable sound in your BIOS.
Here's how to access the BIOS, please read your motherboard manual for further instructions how to enable sound
It appears that the High Definition Audio Controller is having a problem installing
Do you get an error stating that It appears that the High Definition Audio Controller is having a problem installing (The System cannot find the file specified).
If so, you should make sure to update your drivers (see above) and do NOT use the Windows drivers. If you are using a Realtek card, it usually comes with a cool software to control your speakers and stuff, so it's worth your time doing that