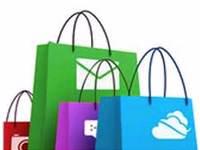 Microsoft is serious about giving you a really great app experience and it is willing to buy apps in order to make it happen.

Microsoft Is Paying To Get Apps To The Windows Store
Microsoft has been busy striking deals with various app developer to get them to embrace Windows Store. The maker of Windows has been talking about the increased demand that is expected to flood the platform once Windows 8 is released but right now it is willing to ensure a good app ecosystem by paying for it from the company coffers.
Microsoft thus became the first company of its kind to be publicly paying to get the top apps to their marketplace. Apple has the record for introducing the app store concept and having the highest number of apps in its store. Google Android also has an apps store and even though it is bigger in terms of marketshare, the numbers are still behind that of Apple's. Neither of these companies have been known for making public deals to get apps. Apple in fact had a long line of developers wanting to get on to the platform.
This might be a first for the smartphone industry but it is certainly not a first for Microsoft. The company needs to have a good app collection to attract a critical mass of users and app developers are not willing to risk it without a large user base. The solution to this stalemate is to pay the developers of top smartphone apps and get them to make the same great apps for Windows Phone.
Apps like Facebook, Netflix, Angry Birds, Evernote and and YouTube are already there on the Windows Phone Marketplace. But it still lacks Skyp, which is now in beta for Windows Phone. It also lacks Pandora and Mint, both of which are supposed to be coming later this week along with MLB at Bat. Microsoft is also courting New York Times and other news organizations to have their apps on the Marketplace.