Jon, one of our readers wanted to know how to remove the admin account in Windows. He accidentally created an administrator account and now wants to remove it again. So, here's a guide how you remove an administrator and/or any other user account.

Administrator Account Usage – What Is It For?
Tip: Only use the administrator account when you really have to, e.g. perform tasks that require administrative permissions. For everything else you should use a regular account. For extra security, you can hide the administrator account.
Removing An Administrator Account
If you accidentally created an admin account, you can remove it like any other account. The built-in admin account of Windows 7 can not be deleted (for obvious reasons) but can be hidden if you wish to do: Hide admin account
To remove a recently created account follow the instructions below:
1. StepOpen up the Control Panel
2. Step Find User Accounts and Family Safety. Below this link click on the smaller sublink Add or remove user accounts

3. StepConfirm the UAC prompt
4. Step Click on your newly created administrator account:

5. StepClick on the link Delete the account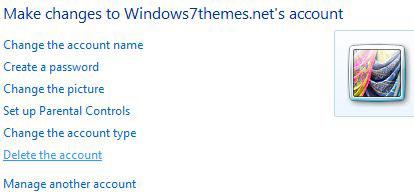 6. Step If the account had any own pictures, videos, music, etc. you can keep the files or let Windows delete them, your choice:

If you decide to keep the files, they will be stored in a folder with the name of the user account right on your desktop.
7. Step Confirm that you want to proceed. (Make sure you don't need the user account)
8. Step Wait a second until Windows removed your admin account.
Hide Main Administrator Account
As a matter of fact, you can't remove the built-in administrator account. The main admin account will always be there, but you can hide it.
1. Step Open an elevated command prompt
2. Step Enter net user administrator /active:no
3. Step This will hide the administrator account
4. Step You can enable it via net user administrator /active:yes
If you have any question, please use the contact form to send me a quick mail and I will get back to you.