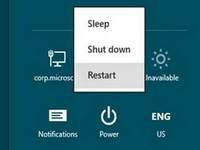 Looking for instructions how to get into the BIOS or access the advanced boot options in Windows 8? Here are 3 ways
The New UEFI BIOS – Boot Options
Normally getting into the BIOS should be as easy as hitting DEL on your keyboard or F8 for the boot options, right? No, Microsoft wants a fast OS and Windows 8 boots so fast that there's only a 200ms window to get the advanced boot options
SPAM the keys – if you're lucky you will get in or try the 3 methods below
1 Method: Shift + Restart
Hold down shift when clicking Restart as seen below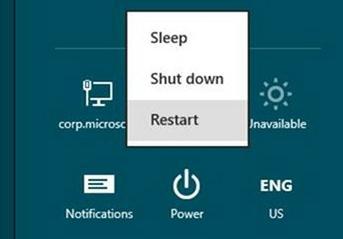 Microsoft said the key combination was because boot options need to be accessible even when someone isn't logged in. After all, it's not always an option to get into a PC.
2 Method: Booting From USB Device Or Open Boot Options AFTER Logging In
The other option is to go the PC Settings > General > Advanced startup, which will then restart and display the Boot Option menu.
1. Step Press Windows + C to open the Charms bar, the sidebar will slide in. Now click on Settings.

2. Step Now click on More PC settings to open the PC Settings: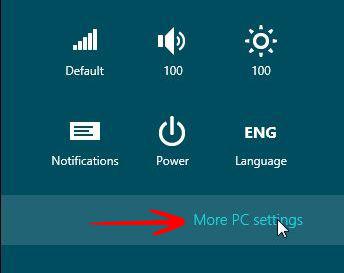 3. Step Navigate to the General tab. This is the screen you will see there: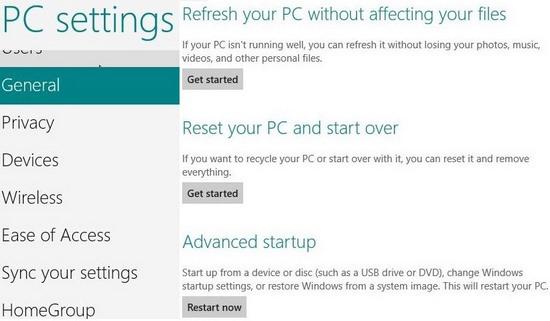 The options Advanced Startup can be used to boot from a device 
Method 3: Use our shortcut
We have prepared something for you that will make your life easier. A shortcut! Simply download it, extract it onto your desktop, double-click and wait – done you will then get the advanced boot menu
– to be added here –
That option can be used to boot into a second installation, as Windows pauses the restart sequence to go to the options menu. Microsoft claimed on its blog post discussing the changes that the method is one of the fastest ways to boot into another operating system.
Booting really takes 7 seconds?
Command Prompt is also an option, typing / o alongside / r for restart. Microsoft said they wanted to keep Shutdown.exe consistent, for those who use it. The majority of Windows 8 owners will probably use the menu-based method, I imagine.
In the blog post, Microsoft showed off the ultra-fast boot time. The video showed someone turning off a laptop and it was basically booted by the time I had blinked, which is great because Windows 7 boots up in about the same time but then has to load applications after. When the Microsoft employee booted into the Metro side of Windows 8 – which seemed to be the default, incidentally – everything seemed to be loaded. However, she didn't click on any of the apps. I would have liked to have see how fast they booted up.