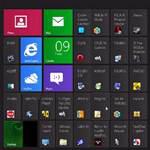 It doesn't have to be all black on the Windows 8 Start Screen (or green on Windows 8 Developer Preview), you can easily customize the start screen background
The Metro side of Windows 8 can have different backgrounds too, along with the desktop side
Grouping, rearranging and naming groups of tiles has just been covered. This covers everything: Search, the Start Screen and the Settings pane. However, if you want to change the colour of the background in the Metro side of Windows 8 – though you can't add wallpapers officially at the moment – then read on.
It should be noted that the Consumer Preview is just that, a preview. Therefore, the customization options aren't as fleshed out as they will be when Windows 8 lands on shelves later this year.
However, the Consumer Preview has already expanded on what the Developer Preview offered in the way of customization when users could only choose one colour aside from the default green colour. The Consumer Preview includes a range of colours to choose from.
Use New Control Panel To Change Background Color
1. Step To change the colour of the background, head to the PC Settings page. This can be accessed by bringing up the Charms bar on the right (swipe from the right, or move the cursor over to the right-hand side). Once opened, click the Settings charm.
2. Step Users will be presented with six options, from being able to shut down the PC to configure your network. However, ignore these: click/tap on "More PC settings."
3. Step Once accessed, click the "Personalize" option in the sidebar on the left. From there, select Start Screen (you can also change the Lock Screen, or your account picture) and choose a background colour. There are preset options, or you can use the slider below those presets to get the exact colour of your choosing (no matter how bright or dark). You'll be shown a preview of how the background will look before accepting, at which point you can tap the Windows button on the keyboard or the shortcut in the bottom-left hand corner.
There is also a small tool, called Windows 8 Start Tweaker, which makes the process of changing the background very quick. When installed, the tool allows you to change either the background colour or image or both. For images, it supports .png, .jpg., .gif and .bmp. The developer recommends images being double the height of the screen resolution.