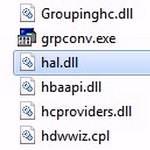 If you are encountering problems with a missing or corrupt HAL.dll file, then here's how you would restore it.
Important: If you are customizing your Windows 7 OS, you should make sure to backup your explorer.exe and ALL modified DLL files before following this guide
Normally HAL.DLL sits in C:\Windows\System32 with a lot of other DLL files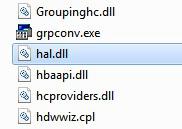 Restoring Original HAL.DLL Without Windows CD/DVD
1. Step I've previously explained numerous times what the best way to restore system files is. No, not a system restore. Instead, it is recommended to use the Windows System File Checker sfc.exe
2. Step Open an elevated command prompt
3. Step Now simply enter sfc.exe /scannow
4. Step Wait and after the process reboot. All original system files will be back in place. SFC also checks for corrupt or replaced files.
If the HAL.DLL file was missing or corrupt it's now back where it belongs. If you still have problems related to the HAL.DLL please post your error message below.