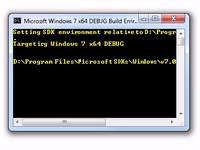 If you are wondering how to get a list of all currently active Windows services in 7,8, read this.
1. Step Open a command prompt
2. Step Enter net start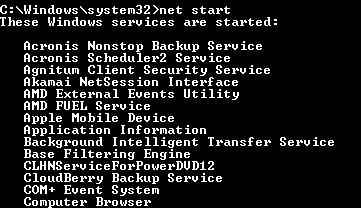 3. Step The list might be quite long, so you have to increase the size of the command prompt window to see all active services.
This is an example list with some services that may run on common PC's:
Acronis Nonstop Backup Service
Acronis Scheduler2 Service
Agnitum Client Security Service
Akamai NetSession Interface
AMD External Events Utility
AMD FUEL Service
Apple Mobile Device
Application Information
Background Intelligent Transfer Service
Base Filtering Engine
CLHNServiceForPowerDVD12
COM+ Event System
Computer Browser
Cryptainer service
Cryptographic Services
CyberLink PowerDVD 12 Media Server Monitor Service
CyberLink PowerDVD 12 Media Server Service
DCOM Server Process Launcher
Desktop Window Manager Session Manager
DHCP Client
Diagnostic Policy Service
Diagnostic Service Host
Distributed Link Tracking Client
DNS Client
Dyn Updater
Encrypting File System (EFS)
Function Discovery Provider Host
Group Policy Client
Human Interface Device Access
IKE and AuthIP IPsec Keying Modules
iPod-Dienst
IPsec Policy Agent
Macrium Reflect Image Mounting Service
MBAMService
Multimedia Class Scheduler
Network Connections
Network List Service
Network Location Awareness
Network Store Interface Service
NitroPDFDriverCreatorReadSpool
NLS Service
NVIDIA Stereoscopic 3D Driver Service
Office Software Protection Platform
PCloudd
Peer Name Resolution Protocol
Peer Networking Identity Manager
Plug and Play
PnP-X IP Bus Enumerator
Power
PowerPanel Personal Edition Service
Print Spooler
Remote Access Connection Manager
Remote Procedure Call (RPC)
RPC Endpoint Mapper
Secondary Logon
Secure Socket Tunneling Protocol Service
Security Accounts Manager
Server
Shell Hardware Detection
Simple Server Monitor
Simple TCP/IP Services
Smart Card
SSDP Discovery
Steam Client Service
Task Scheduler
TCP/IP NetBIOS Helper
Telephony
TuneUp Utilities Service
User Profile Service
Veoh Giraffic Video Accelerator
WebClient
Windows Audio
Windows Audio Endpoint Builder
Windows Connect Now – Config Registrar
Windows Defender
Windows Driver Foundation – User-mode Driver Framework
Windows Event Log
Windows Font Cache Service
Windows Image Acquisition (WIA)
Windows Management Instrumentation
Windows Presentation Foundation Font Cache 3.0.0.0
Windows Update
WinHTTP Web Proxy Auto-Discovery Service
Workstation
Some services on Windows 8 can be safely disabled, we'll let you know more about that soon