When it comes to computers, one thing is certain: you can be sure that they will malfunction at the very worst time possible. To prevent the loss of data, be sure to use only the best backup software for Windows 7.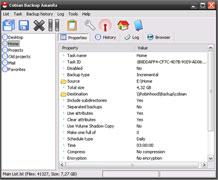 Each of the programs listed below is easy to set up and use, and have been highly rated by consumers. Our long time favorite is Cobian and is on our list of the best free backup software for Windows 7
EASEUS Todo Free
EASEUS Todo free backup software protects data in case of accidental deletion, hard disk failure, or a virus attack. The software is ideal for everyone, even those who are new to computers and backup software. It features large clear buttons and an easy to understand help section. It can back up the entire computer, including partitions, operating system, and applications, without affecting the computer's abilities. In addition, EASEUS Todo can be used to create WinPE based bootable disks.
Macrium Reflect Free
Macrium Reflect is a free program that many consider to be one of the best backup software for Windows 7 options. It features an intuitive user interface and a helpful wizard that will guide users through every step of the process. Before finishing with the wizard, users can preview the backup. At this point, there are also a number of advanced options and configurations available. Running Macrium Reflect takes a bit of a toll on the computer which will run noticeably slower while it is being backed up.
Cobian Backup

Cobian backup combines a plethora of options with an easy to use and intuitive user interface. For those who are not computer wizards, the software features colorful command buttons and a basic three step process for backing up. Help and instruction are available through the index, support forums, and a tutorial. Advanced users will appreciate the ability to password protect and customize the user interface, as well as the large variety of options for file compression and encryption. Last but not least, multiple tasks can be run at once without the program slowing down the computer.
Genie Timeline Free

Genie Timeline is like Apple's Timemachine, only it works for Windows. In fact, it voted by many as the best backup software for Windows 7. Many programs can back up documents, pictures, and system files, but Genie Timeline can back up emails, e-books, and videos as well. The software features a set up wizard consisting of three basic steps. Users can choose which drive should be used as a back up, what files should be backed up, and whether those files should be compressed, encrypted or both.
FBackup

FBackup is the free version of Softland's Backup4all and provides home users with all the basic features, but without the hefty price tag. Users can choose which files and folders should be backed up, what level of compression they want, and whether to do a full or partial backup. Drive mirroring is also available. The backup can be placed onto an external drive or stored over a network. The backups are saved in regular ZIP folders for easy access and restoration, and FBackup supports ZIP64 for backups over 2GB.
There are many different choices when it comes to backing up your computer, and most of the software works similarly. Since backing up is an incredibly important task, instead of choosing any software, take care to choose the best backup software for Windows 7.