Do you need a decent all-in-one messenger? One that doesn't suck and allows you to log into MSN, Yahoo, AIM, Google, Facebook, Myspace, ICQ, Linkedin, Jabber & more at the same time!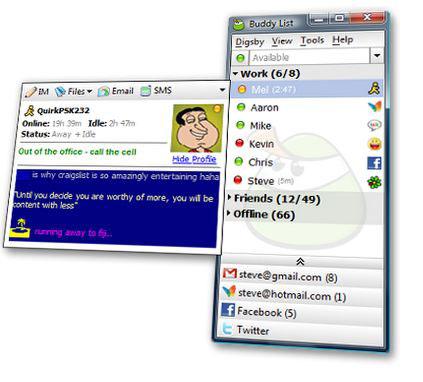 Latest Digbsy Download (free):


With digsby you can also manage all of your e-Mail accounts and social networks, so it's definitely a handy tool that simplifies a lot of things.
The latest digsby messenger also comes with some pretty cool new features, trending news integrated into your social feeds is one of them. Other new features include a myspace newsfeed, myspace achievements, updates Windows 7 skins and more.
Full Windows 7 Support
The latest digbsy download also comes with full support for Windows 7 and makes use of the Windows 7 jumplist. You can now add new IM's or update your status right on your taskbar: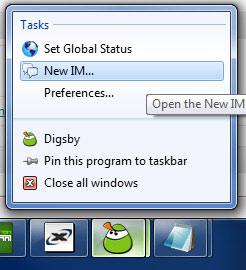 New Windows 7 Skins for Digsby

Some new variations of the Windows 7 skin have been added: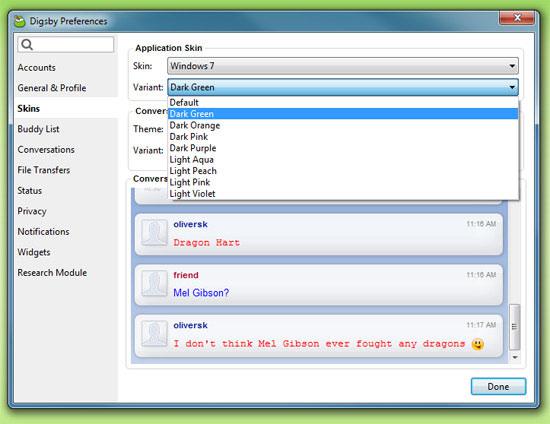 Digbsy Twitter Client
The built-in twitter client is awesome and will automatically mark tweets that you view on your PC as marked, so when you scroll through your timeline tweets will be automatically marked as read. Pretty useful feature: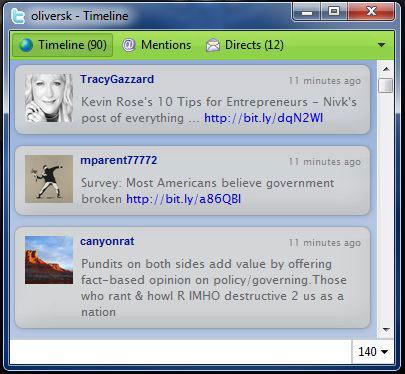 Digsby Achievements
Similar to a lot of games out there, you can earn digsby achievements. Here's the list of achievements:
Adding an account into Digsby (example: for the 1000th time)
Sending IMs (example: for the 1000th time)
Setting your social network status (example: for the 1000th time)
Commenting on Newsfeed items (example: for the 1000th time)
Liking Newsfeed items (example: for the 1000th time)
Browsing photos in the Newsfeed (example: for the 1000th time)
No, of course digsby won't reward you for every new status update, but if you update your status update for the 1000th time you won't miss it, because digsby will notify you.
Latest Digbsy Download (free):