Do you want to avoid losing data and improve improve performance of your HDDs and SSDs? Then read on below. We take a close look at HDDExpert

Prevent Data Loss
Tech brands are always coming up with improved technology in making HDDs and SSDs as reliable, fast, and efficient as possible. In spite of these efforts, there are still a number of cases we get to hear from blogs regarding hard disk failures, and data losses. Although these cases are minimized over recent years, there is still a long way to go.
Alternatives such as RAID configurations and backup systems have been designed & developed specifically in combatting hard disk failures as well as safeguarding organizational data.
HDDExpert, your answer to Disk Management
Although there are hardly any tools designed to prevent your hard drives from getting corrupt, there are several handy utilities that allow you to check your hard disk's health & performance. Study shows that if you regularly monitor your HDD or SDD health & performance, the risk of losing data from hard disk failures drop significantly.
One handy utility that is extremely efficient in monitoring health & performance of your drives is HDDExpert, a freeware app developed & distributed by KC Software. In a snapshot, listed below is what it does for you:
1. Step Displays health & performance of hard disk drives and solid state drives
2. Step Decodes SMART attributes in readable forms
3. Step Suggests methods of maintaining and improving drive health
Unlike many other similar tools, this is not a technical program. In fact, it is developed for people that are not tech geek. This makes this program very easy to use. The interface is designed for beginners & experts alike, thereby eliminating any confusion for fist-time users.
HDDExpert scans all partitions and drives in your system displaying every drive's information including the following:
Manufacturer brand
Model & Serial Number
Firmware
Size of cache
Hard Disk temperature
In case of any uneven behaviour, it shows warnings regarding your drive's health & performance suggesting possible alternatives. It also shows information regarding errors and damages of the different sectors of disks.
Important Features
There are 3 important buttons in the program that you would notice; Fans, Spare and Backup. The first 2 buttons would take you to an Amazon page suggesting fans and spare parts for drives. The last button takes you to the home page of a paid HDD backup & recovery program named Backup & Recovery 12. On the right side of these buttons would be small messages regarding your drive status.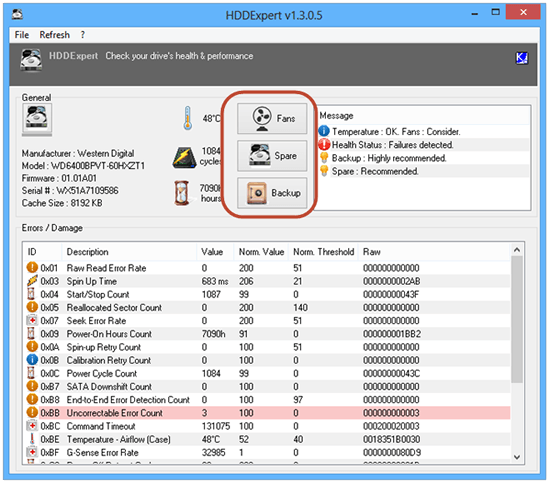 Prevention is better than cure, and there is no exception when it comes to using hard disk drives. It is important to run handy tools like HDDExpert to avoid losing important data in the long run.