No one is completely s spyware and malware. If you are looking for a reliable scanning tools, here are our top 5 spyware removal tools that will help you to get rid of spyware, malware, viruses, trojans and other malicious files.
Our top choice to secure Windows and remove malware since 2010 has been: Malwarebytes Anti-Malware
1. Malwarebytes Anti-Malware
A very fast scanner that can quickly scan your complete system in less than 8 minutes. During my tests on an infected system, Malwarebytes Anti-Malware had found 3 malicious objects after only a few minutes (Lavasoft's Adaware hadn't found anything, not even after 30 minutes).
Malwarebytes scanner had found 9 objects after only 4 minutes:
2. Spybot Search & Destroy Spyware
One of the best free spyware scanner is Spybot "Search & Destroy". Unfortunately, the Spybot has compatibility issues with Lavasoft's Adaware. Although this spyware removal tools looks a bit outdated it is an award-winning solution to protect your PC from malware.
3. SUPERAntiSpyware
A very advanced free spyware scanner that can even protect your homepage from any changes. Spyware and malware often tries to change your homepage, but no longer! Thanks to SUPERAntiSpyware your homepage and system will be protected. If you are an advanced user, I recommend to use this scanner instead of "Spybot" or "Malwarebytes" solution.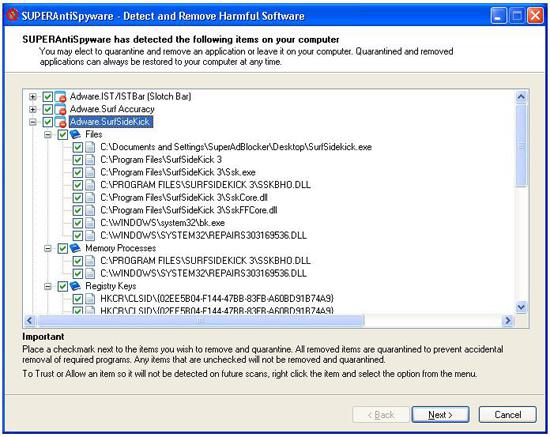 4. Lavasoft's Adaware: Anti-Spyware + Anti-Rootkit
Probably the most popular spyware scanner. Considering that it is so popular it might be a threat, because spyware & malware creators often create files that will not be recognized by popular tools and can only be removed with "specialized" advanced anti-hijacking tools.
My advice: The free malware scanners above are a better choice, but if you want to completely get rid of everything it can't hurt to check with Adaware as well.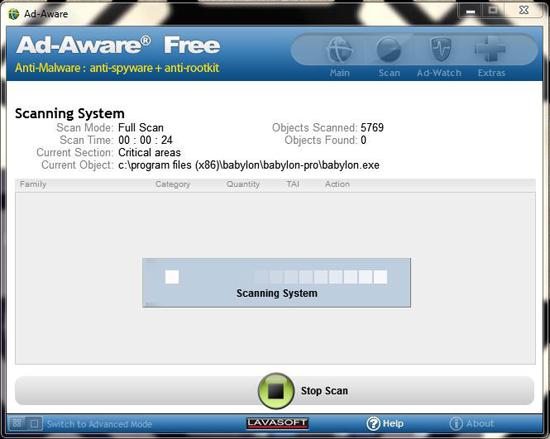 5. Windows Defender: Built-in Scanner
The built-in Windows 7 spyware & malware scanner can be downloaded for genuine Windows XP copies as well.
Although it rarely finds any spyware for me it is a great Windows Vista and Windows 7 feature, because it improves the overall PC security on modern PC's (many machines connected to the internet are not protected, so a built-in scanner can help to reduce DoS attacks and other "global" threats). By default it is scanning your system daily, which you can turn off under "Tools", "Settings", "Automatic Scanning". You should only disable daily automatic scanning if you have any other spyware scanner on your system: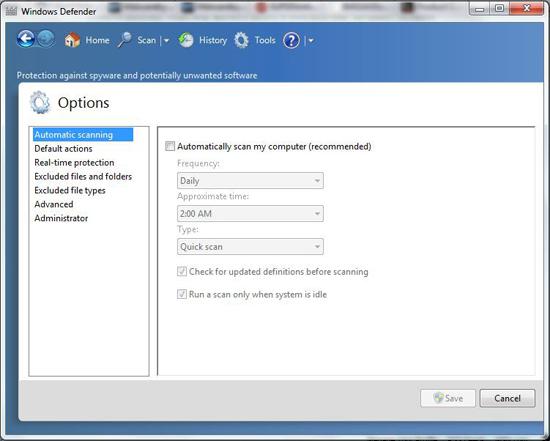 Infected Registry Keys (Test Results)
Should you find the following registry keys on your system, you now know that your system is infected:
Windows Firewalls
If you are looking for a good firewall to protect your Windows Technical Preview: