According to analysts at IHS-iSuppli, Ultrabooks are going to see a strong growth pattern from 2012 onwards, which is when Windows 8 is going to be released.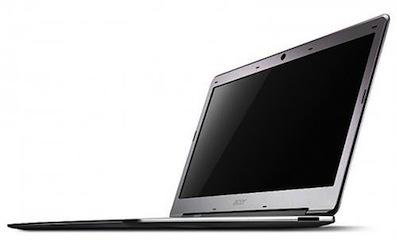 Analysts Suggest Ultrabooks To Become Big By 2015
Ultrabooks are part of a brand launched by chipmaker Intel to reinvigorate interest in PC's in the tablet dominated post-pc era. These are extremely thin and lightweight machines that will be powered by Intel's low-powered processors from the Core family of processors. Almost all major PC manufacturers have announced their plans to launch Ultrabooks this year or for next year. Ultrabooks were officially launched earlier in 2011. There are a few Ultrabook models already available in the market running Windows 7. Starting some in the second half next year, Windows 8 Ultrabooks will become the dominant players once the OS is launched to the market. Intel will also debut new processors that will make the Ultrabooks more attractive to the buyers.
According research results published by researchers at IHS-iSuppli earlier this week, the Ultrabooks will be capturing almost half the market at 48% of total by the year 2015. Once this happens, Ultrabooks would've partially succeeded in their bid to compete with tablets; particularly in their bid to compete with the Apple iPad. The iPad is still the market leader in tablets and PC-alternatives.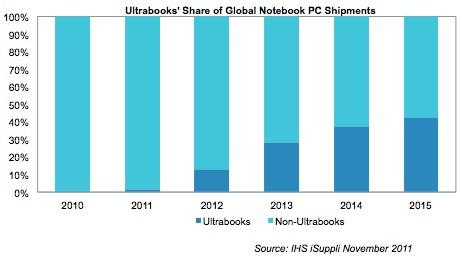 The report suggests that the Ultrabooks will see an 11 percentage point jump in 2012 to 13% from the 2% it currently holds. In 2013, this is supposed to become more than double at 30%.
Why Ultrabooks Are More Appealing Than Traditional Laptops
Ultrabooks are extremely thin and lightweight — qualities that all of us appreciate. Many of us who have considered buying the iPad or some other tablet, have considered it for the portability and ease of use. But the lack of a keyboard is a minus point for many. Ultrabooks running Windows 8 will succeed in fulfilling both needs. They will be thin and lightweight and also have a great platform. Intel intends to work on lowering prices much below the $1000 mark, which is again going to make Ultrabooks a good alternative to the tablets. It will be an alternative for the alternative if you may.