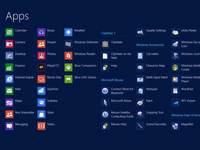 Want to port your iOS apps over to the Windows 8 OS to earn money from the new store? Microsoft says it isn't hard to bring apps over to Windows 8
Microsoft says Windows 8 bucks the trend in bringing other apps over to the platform, and proves it
Bringing iOS apps over to other platform variably isn't worth it, unless you have a big hit such as Angry Birds. Extra resources are required to accommodate lots of devices (in the case of Android), or the developer support isn't in abundance (in the case of Windows Phone 7). However, bringing iOS apps over the Windows 8 and its Metro interface is being pitched as a relatively simple affair.
In a "Design case study: iPad to Windows 8 Metro style app," Microsoft outlines how an iOS app functions pretty much the same away on Windows 8 and as a result isn't that hard to bring over.
Microsoft describes Windows 8 as the opportunity for apps to flourish, as touch input is now a central focus in the OS. The case study shows how to translate "common user interface and experience patterns" from iPad apps.
UI Changes
Microsoft's app is Photo Journal, where users can view and manage photos and videos in a timeline. Microsoft run through six key aspects of the interface and how each is translated over. The first is Layout and Navigation.
The iPad app shows photos in a 2 x 2 grid, which photos stacked on top of each so only one photo can be seen at a time. The Metro version of the app shows four different photos at the same time, and the latest comment on the first photo.
The comments and photos view also become more noticeable in the Metro app. In iOS, users would have to press the comment or photos button and switch to that panel. Windows 8 displays them together.
The top taskbar is also removed along with the search button – presumably accessed via the Charms bar – to focus on the content.
The Windows 8 app also has greater touch support, surprisingly. For example, selecting a year in the iOS app requires tapping the button and selecting an individual year. Semantic Zoom in Windows 8 allows users to pinch to zoom and view all the years at once.