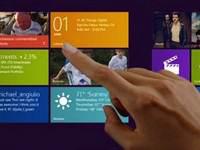 Here's how to pre-empt problems when installing Windows 8 on a touchscreen PC
Putting Windows 8 Consumer Preview On A Touchscreen PC
Tip: Trying to install via USB? Read our guide how to install Windows 8 Consumer Preview using the USB/DVD Downloader
Windows 8 is designed to be on a touchscreen; rather, it's designed to be under one. The Metro UI is best experienced with a touchscreen. So there are many out there who are planning to upgrade their touchscreen PC's to Windows 8. But before you do that, you might want to read the rest of this post.
Since Windows 8 is still in Consumer Preview (Public Beta) phase, it has some hiccups to deal with when it comes to upgrading directly from Windows 7. Most people would want to do this in order to avoid the hassle of reconfiguring and reinstalling software that they use on a regular basis. However, Windows 8 Consumer Preview seems to have some problems doing this upgrade whilst maintaining the current set up and tends to hang during installation. So the best thing to do is to do a clean install on an empty partition and create a dual boot. Also, if you attempt to upgrade anyway, do create a recovery USB stick. Windows 8 CP restores you back to starting point but just to be on the safe.
A clean install should take you about 20 minutes should everything go smoothly. You might want to keep a secondary device ready for doing Google searches if something should go wrong.
If you have done a clean install, your start up should be under 30 seconds on average configuration. You will land up on the Metro Start Screen as is the norm with Windows 8.
Protip: Those who are upgrading straight from Windows 7, allow Windows 8 to perform the complete check on your installed applications and then uninstall the ones that are deemed incompatible. Also, make sure that you do not install Windows 8 on your primary machine without a stable Windows 7 to go back to. This OS is still under development, so it's not a good idea for those who depend on their machines to get work done.