Ok, I'm experiencing some really odd high CPU load whenever I watch flash videos. You too? Let's do some trouble-shooting and find out how to fix Flash and reduce the high CPU load to a minimum. The latest flash player 10.1 supports hardware GPU acceleration, maybe that's going to help us.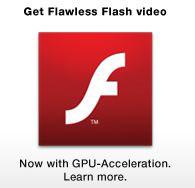 If you are troubleshooting, the first thing you do should be a re-installation.
De-Install + Re-Install Flash
Adobe suggests to de-install your old flash player and then re-install it after a reboot.
I'll try that and report here if it really helps to bring down the CPU load.
1. Download Adobe Flash Player Uninstaller
You can download the Flash uninstaller for Windows from here:
http://www.adobe.com/
2. Download Flash Installer, Install as Administrator

You can download the latest Flash installer from this website:
Adobe Flash Player 10
Extract the zip file and locate the  "Install Flash Player 10 ActiveX.exe" file.
Important: Right-click on "Install Flash Player 10 ActiveX.exe"  and click "Run as Administrator".
Of course, that didn't help to fix my problem, it would have been too easy.
Flash GPU Acceleration
The newest flash player supports GPU-acceleration, this can greatly improve your flash experience, especially if you are watching HD  flash videos regularly.
Left: With GPU Acceleration Right: Normal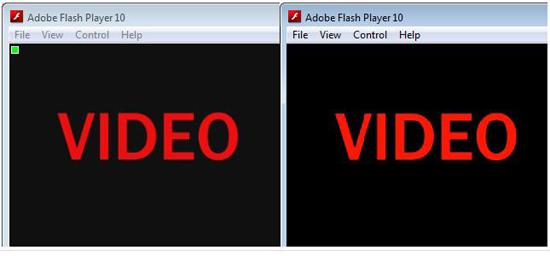 First of all, check if your graphic card is ready for flash hardware acceleration:
Then download the latest flash player 10.1 beta 2 and the latest graphic card drivers from Nvidia/ATI.
Adds GPU-acceleration for smoother online HD videos with the new Adobe Flash 10.1 beta
Disable Flash Hardware Acceleration?
Unfortunately, many people on the AMD forums reported problems when they enable flash hardware acceleration. By default, flash hardware acceleration is enabled, so you might want to disable it if you have any problems with flash.
Right-click on a YouTube or flash video and click on Settings. Uncheck "Enable Hardware Acceleration":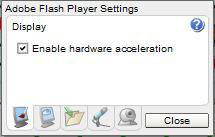 Summary
Update drivers
Update flash player
Disable/Enable Hardware Acceleration
Hopefully, this will fix your flash problems and reduce your high CPU load.