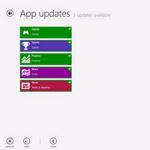 Apps, or tiles as Microsoft calls them, will update individually by notifying users, and Microsoft is offering users a range of updates pre-launch.
Plenty Of App Updates As Windows 8 Rapidly Approaches
PC Makers will of course bundle Windows 8's release to manufacturing (RTM) build with devices, so the most recent version of Windows 8 and its apps will be available with the product from boot. For users using apps over time, the program's notify users individually. Users see the notification, open the app, and click the link to head to the update page.
As Windows 8's October 26 worldwide launch approaches, Microsoft is updating its apps. The first is Bing, receiving an update today. Apps will receive performance and stability improvements, though more specific features are detailed on an app-by-app basis. Here are the details.
SkyDrive: the ability to search in-app, rename folders and files, and set a contact sort order will be introduced. The ability to change profile pictures, improved search, and the ability to search for contacts are new features.
Mail, Calendar, People, and Messaging: inbox conversation view, the ability to accept and decline invitations in mail, and the ability to search for a contact within a messaging app are part of the update.
Refinements as Microsoft prepares to wow consumers, but apps must remain updated longterm
Photos: users can crop and rotate photos, and the ability to move through photos in the Picture Library even when opened in the desktop are new features.
Maps: not to be confused with Apple's software, Maps introduces a birds-eye view, over 3,000 indoor venue maps, driving direction hints, improved navigation and layout, and integration with Bing and Travel.
Bing: richer search results, the ability to select Bing images for use on the lock screen, and the ability to zoom on search results to see related queries are new features.
Finance: additional news and magazine content, finance videos, and more market exchanges are enabled.
The full list of updates and apps is available at the source link (below).
Windows 8 launches Oct. 26 worldwide. Microsoft is holding a media-only event Oct. 25 to celebrate Windows 8, where it'll probably show off a range of products.