This is not NSA specific, but ad networks create meta-profiles on you every day and even sell them. It is likely that up to 150 random ad networks know your buying behaviour and browsing habits.
Some Ad Networks Will Not Adhere
Even if you opt-out, many networks will not adhere to it and you will still see personalized ads for things you've searched for. This works by analyzing your browsing behaviour. Let's say you visit a niche forum every day (about cars or TV shows), then it is likely that you will see ads based on that behaviour.
Why you may not want to opt-out of all tracking:
Wee see ads every day. They are annoying and unless they are targeted and well done they wont catch your attention. So if you prefer seeing ads that are not boring and are specific and meaningful you don't want to opt out. However, some networks sell your browsing behaviour.
QuantCast is a network that is making money of your data by selling your demographic data: Basically they will track how much you earn, if you have a degree or not, what interests you have, how old you are, etc. Those information are viable for advertisers around the world. So there's nothing wrong with that, but it is still something you need to be aware of.
If you decide that you still want to opt-out of ad networks, we have to make sure we use different browsers (as outlined in our browser strategy) and opt out of tracking on various sites.
AdChoices Opt-Out
1. Step First head over to http://www.aboutads.info/choices/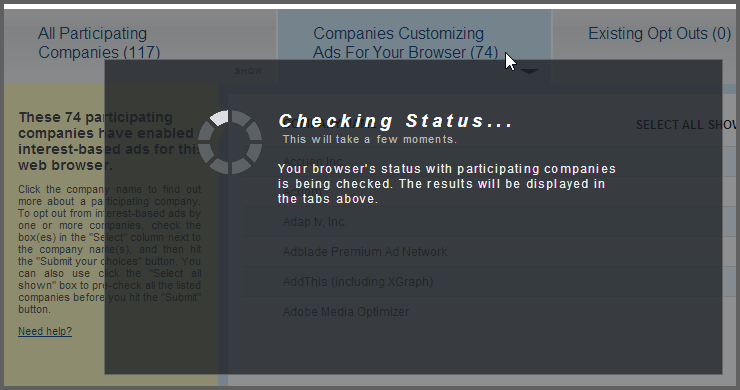 2. Step The site will automatically detect how many participating companies are tracking your browser right now. This will usually range from 20 to 120+ depending on how much time you spend visiting websites.
3. Step There is a box to select all ad networks or you can go through them manually. Participating companies include AOL, Amazon, Google, IDG, QuantCast and many other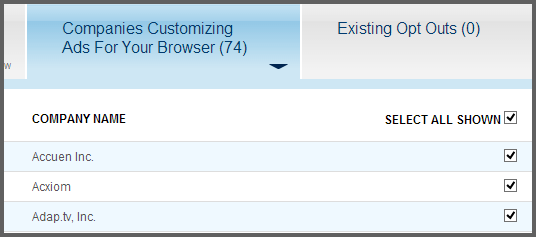 4. Step The opt-out process is straight forward.


Once that is done, you have to repeat the same steps for every browser you use. Remember this is controlled via cookies.
These so called opt-out cookies will store what networks are allowed to track you.
Interest-Based Advertising by NAI member companies
Only NAI (short for Network Advertising Initiative) participating companies will adhere opt-out companies. So if you opt-out, those companies can longer show you interest-based advertising
Protecting Your Opt-Out Choices (Download)
Because your choices are stored in a cookie, every time you delete your cookies (depending on your current settings this may be whenever you close your browser!) you will lose your choices. To avoid that there are browser extensions that will prevent deletion of opt-out cookies:
Additional Resources