Do you regularly clean your recycle bin to free disk space? If so, it might have happened to you that you deleted some important files that you still needed. Here's a way how to restore files deleted from recycle bin or any other location.
You're not really deleting files unless your overwrite disk space over and over again
When you're emptying the recycle bin you're not really deleting files from your hard drive. Well, it looks like you're deleting the files, but unless you overwrite the space that those files occupied a couple times you can still restore your files (often completely).
Tip: Don't move, download, copy any files if you want to increase your chance to recover any deleted files!
Sometimes, it can happen that hard drives crash and that you lose some of partition tables, but even then you can still restore your files. Some files will be corrupted and you will no longer be able to open them, but this greatly depends on your luck.
Tools to restore files deleted from recycle bin
DmitryBrant's DiskDigger is a handy tool that can restore files. It can restore files deleted from flash drives, memory cards, hard drives and any other disks/drives, even when you deleted the files from recycle bin.
Supported disk formats are: FAT12, FAT16, FAT32, exFAT, and NTFS
Preview files before restoring them
One of the best features of DiskDigger is that you can quickly scan your drives and then even preview them. So, if you're restoring some deleted pictures from recycle bin you can preview all of those images before actually restoring them: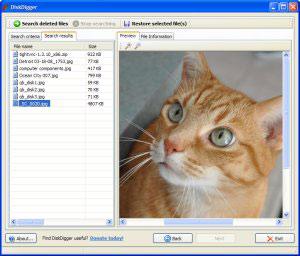 There are other freeware tools that can help you to restore your files. Some data recovery tools are pretty expensive, because they have some complex algorithms to scan your hard drive for recoverable files.