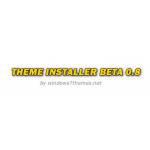 We know that many of you have problems installing Windows 7 themes, despite our extensive tutorials. Therefore, we urge you to get familiar with our Windows 7 themes installer. It's a great app for beginners.
We are currently looking for programmers for contributions to this program – are you a NET programmer and want to help out? Drop us a mail
[email protected]
We want to release a new version of the installer that addresses the current problems. For that please send your bug reports and suggestions to [email protected]
Still, beginners also need to get familiar with sfc.exe and read all of the attached tutorials. Personally, I still prefer to replace system files manually, because it's really easy when you know how and secondly it causes a lot less problems. Programs may not always work under all circumstances. So, yes you should definitely download our themes installer, but you should also make sure to read most of the related tutorials!
Change ownership and permission manually
Want to replace system files manually? Read our tutorial How to replace shell32.dll. Everything I explain in the tutorial can be done via the Windows GUI, all you need to do is to right-click on a file and then click on Properties, where you can change the security settings where basically all the permissions and ownership information are stored.
Replace files with theme installer
The themes installer allows you to replace many system files:
Even on Windows 7 64-bit you can install Windows 7 themes. However, it gets really complicated on 64-bit and it not always works.
Free Download
Windows 7 Theme Installer by http://windows7themes.net is licensed under a Creative Commons Attribution-NonCommercial-NoDerivs 3.0 Unported License. Only allowed to share if you provide a link to our site. Free for personal use.
Important MUST-READ before downloading:
1. Step Run this program as administrator only (right-click on .exe, run as Admin)
2. StepYou MUST patch your UXtheme.dll files or this tool will not work. Read more here
3. StepClose all other programs before installing themes (highly recommended!)
4. Step After installing a theme, you have to click on the Apply button (!) or it will not work
5. Step It is recommended to set a system restore point before using this tool and/or create backups of the original system files
6. Step Use SFC.exe to restore the original system files . Read more here
7. Step This is a beta and can contain bugs, please report at http://www.windows7themes.net
8. StepUse at your OWN risk! (This program will modify system files)
9. Step Only download themes from trustworthy sites
Site Owner?
Add this PAD file to your site:
Windows 7 Theme Installer PAD File
Or link directly to our site. We appreciate it along with this small text:
With the help of the Windows7ThemesInstaller you can install themes and replace system files in Windows 7 a lot easier. It is a simple tool that allows you to turn Windows 7 into something else. You can completely changing the appearance of Windows 7 by installing shell themes from sites like http://windows7themes.net or DA (DeviantArt.com). As you might know it is quite complicated to replace system protected files in Windows 7, no more!

The best part is the themes installer also works on Windows 7 64-bit and you can install shell themes without the hassle of all the permissions and ownership issues. For beginners, this is a must-have.